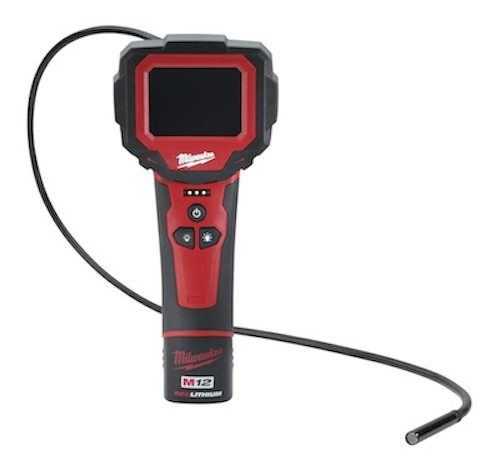 Milwaukee—Milwaukee Electric Tool Corp. continues to expand the versatility of their M12 LITHIUM-ION system with the introduction of the M-Spector 360. Featuring high image quality and the industry's first rotating screen for fluid image control, the new tool will revolutionize the market as the next generation in diagnostic camera technology, declares the manufacturer.

"Anyone who has used a digital inspection camera can relate to the difficulty and frustration experienced when an image cannot be viewed in the correct orientation," says Corey Dickert, Product Manager, Cordless for Milwaukee Electric Tool Corporation. "The rotating screen has solved this problem by simply allowing the user to adjust image orientation easily with one hand, keeping the other hand free to control the cable. Other designs on the market today, such as cameras with a removable screen, force the user to juggle several components while trying to adjust the image… turning it into a difficult 3-handed operation."

Users will also experience best-in-class image quality with an optimized 2.7" LCD display that delivers a crisp, clear picture. A 9mm 640x480 digital probe and an enhanced cable provide improved durability and pipe maneuverability in even the tightest spaces, while four surround LED lights offer superior brightness without shadow or glare.

Milwaukee will offer the new M-Spector 360 with the industry standard 3-ft cable (2313-21), as well as a 9-ft cable version (2314-21) that comes with the new Pipe Guide attachment to navigate pipes better than any scope in its class. A mirror, hook and magnet will also be included to help the user inspect, diagnose and solve countless problems in service, maintenance and repair applications. A bare tool model (2313-20) is also available without a battery and charger to allow current Milwaukee M12 users to add to the versatility of their system and get an inspection camera at a tremendous value vs. competitive alkaline units.

Powered by M12 RED LITHIUM Battery technology*, the M-Spector 360 is the only inspection camera that is compatible with a tool system that offers over 30 products.