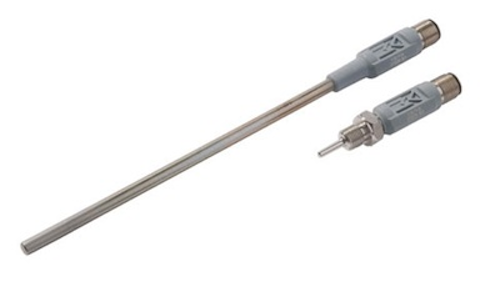 Turck has presented a new series of compact temperature sensors with processing electronics integrated into the M12x1- connector. The miniature TTM Series uses Pt1000 measuring elements for precise temperature measurement in the smallest space. Being only 25 mm longer and 1.5 mm wider than a standard M12x1 connector, the fully encapsulated TTM sensors—not needing additional processing devices—provide an output signal of 4...20 mA in 2-wire technology.

Despite the compact design, the user still benefits from the usual flexibility of Turck temperature sensors. Like the TP sensors, the standard miniature transmitters work with mineral insulated probes, and the probe length is selectable.

In addition to standard probes with diameters of 3 mm and 6 mm and available in lengths of 100 mm and 150 mm, Turck offers screw-in type probes with G1/8" male thread in lengths of 13 mm and 24 mm. Depending on the type, the transmitters are made for temperature ranges of -50-+50C, 0-+100C, 0-+150C and -50-+150C. Customized solutions are available on request.