High current contactors offer many advantages
InPower's high-current contactors offer over-current shutdown protection.


Jul 6th, 2011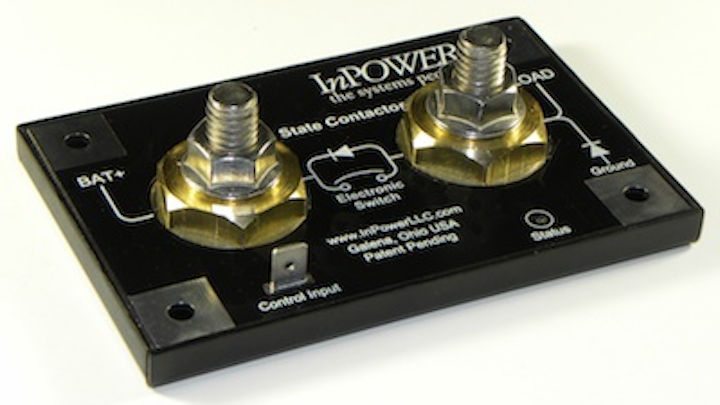 InPower's second generation, solid-state, high-current contactors—with over-current shutdown protection—offer many advantages over mechanical solenoid contactors. These single channel power switches are available in continuous current ratings of 100, 150 and 200 amps. The SSC20 Series integrates extremely low on-resistance, solid-state switches with very high current fly back diodes. This combination provides surge current capability for starting high in-rush current loads and provides maximum voltage spike suppression for high inductive loads.
The contactors are sealed and packaged in an anodized aluminum case. Power terminals are 3/8–16 threaded stainless steel studs with brass contact pads to ensure low resistance cable connections.
Automatic fault detection shuts off the contactor in the event of an overcurrent, low-battery voltage, high temperature or loss of ground condition. A status light emitting doide will flash to indicate a fault shutdown and will be steady on to indicate when the contactor is on and operating normally.