Metal enclosure provides code compliant use in air handling space
IDEAL's Met-Con flexible conduit connector allows for easy, tool-free replacement of LED lighting modules.


Jul 11th, 2011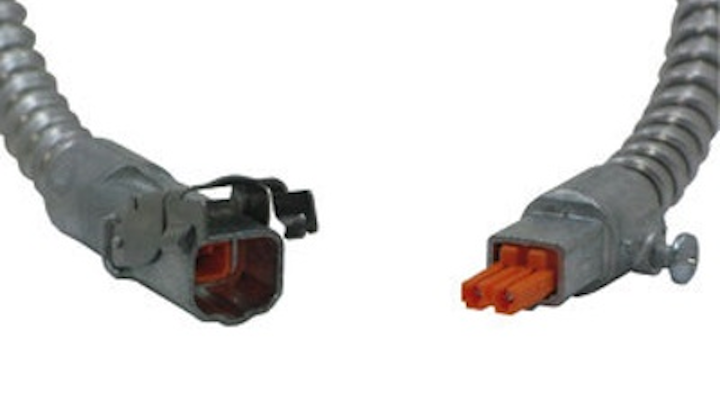 Sycamore, Ill.—LED luminaires have shown dramatic improvements in performance in recent years, as well as energy efficiency. As a result, LEDs are undergoing a period of rapid growth in a variety of lighting applications, from street lighting to commercial down lighting. Although also known for long life performance, LEDs occasionally need replacement in the field due to failure or changing occupant needs, making replaceable modules essential to good luminaire design.

IDEAL has introduced the Met-Con connector—especially designed for the LED market that houses its PowerPlug 182S 2-pole luminaire disconnect. Equipped with a connector latch, this protective enclosure enables electricians to easily replace LED modules located in the air handling space without the use of tools. Users simply pull down the module, undo the latch, disconnect the Met-Con to cut power from the luminaire and make the replacement.

The Met-Con enclosure, which is made of zinc alloy and stainless steel, provides code compliance for use in spaces used for environmental air and complete metal enclosure for commercial lighting applications. It connects to flex conduit using standard industry screw capture for convenient installation at the OEM. While the latch easily opens without tools, when closed, it holds securely. The Met-Con is tested for use in Class 2 LED modules applications to UL 1598 Luminaires Standard.

The Met-Con Connector is exclusively designed to fit IDEAL 182S 2-pole disconnects for 18-22AWG wire sizes. The Met-Con is sold in quantities of 250 female (part #50-682SF) and 250 male (part #50-682SM) pieces.