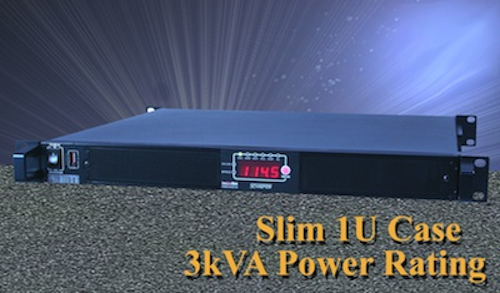 Ashland, Mass., April 27, 2011—Schaefer's AEP-A3000R Series of highly efficient, pure sign wave inverters provide 3 kVA of power in a compact 1U rack design and are available in standard input configurations of 24 Vdc and 48 Vdc. Outputs are regulated to +/-3 percent or better. A built-in, 4-6ms automatic bypass switch allows for redundant operation from utility power if the dc supply drops out. In UPS mode, the ac input is not needed for standard inverter operation.

All models in the AEP-A3000R Series feature comprehensive protection circuitry and a front panel digital display that indicates low/high input voltage, over temperature and overload conditions. The display also indicates volts, amps, watts and temperature. Efficiency ranges from 87 percent to 90 percent. Class B EMI compliance minimizes interference to other sensitive equipment.

An optional SNMP Ethernet interface provides for IP network management of the AEP-A3000R. The slim case fits easily into 1U racks.

Schaefer's full family of pure sine wave inverters also includes stand-alone modules starting at 700W of power and higher power rack designs that include a UPS.

Modifications to standard units are available. In addition, Schaefer can design and manufacture custom solutions.