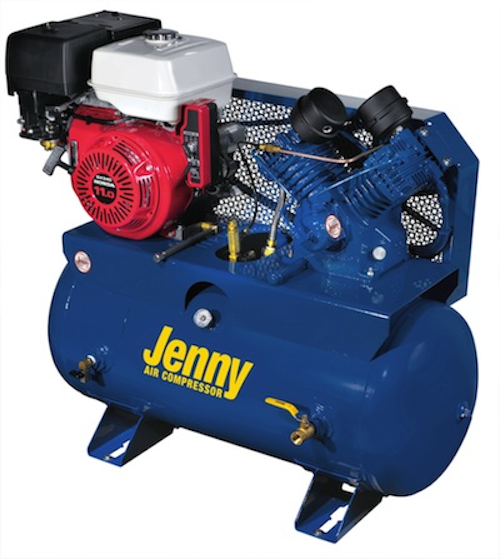 Somerset, Pa.—Jenny Products Inc. offers a line of two-stage service vehicle compressors. The line includes five models, each designed, tested and proven to meet the demands of various users and applications, such as service centers, equipment dealers and construction professionals.

The compressors are powered by 5- to 18-horsepower Honda GX series engines. Three models come with 30-gallon air tanks, and the other two have 80-gallon tanks. They are available with recoil or electric start and are offered with three different pump styles to meet a variety of volume requirements. The lowest-capacity unit provides 10.2 CFM at 125 PSI or 9.1 CFM at 150 PSI, while the largest unit provides 39.5 CFM at 125 PSI or 34.7 CFM at 150 PSI.

All compressors in the line are built with a heavy-duty, two-stage cast iron compressor pump for superior performance and longevity. The compressors are belt driven with a large flywheel for easy start-ups and extra cooling, and pump temperatures are further reduced by a directional air shroud.

Designed to withstand the demands of any industry, all models come with several standard features to reduce maintenance and maximize uptime. The belt is totally enclosed within a heavy-duty belt guard, and all fittings are protectively mounted. The units also include a finned intercooler, centrifugal unloader, large canister intake filter with replaceable filter elements, pneumatic throttle idle control, a stainless-steel discharge hose, oil-sight glass, powder-coated ASME certified receivers, a tank gauge and a pressure release safety valve.

Splash lubrication with Jenny "Ultimate Blue" compressor-pump oil provides contractor-duty protection of the pistons, crankshaft, bearings, rings and cylinders. The two-stage service vehicle compressors also come with an optional lubricator and airline filter. Special engine, tank and pressure requirements can be customized upon request.