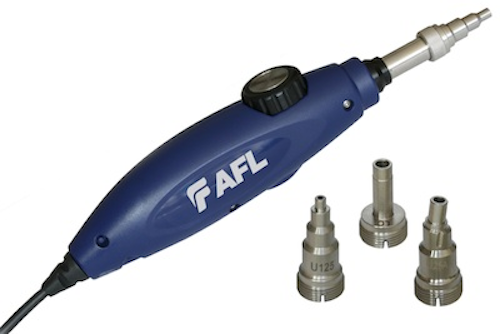 Spartanburg, S.C.—AFL is launching the NOYES DFS1 Digital FiberScope, an ergonomically designed, hand-held fiber optic connector video inspection unit. For optical cable connector and bulkhead adapter inspection, the DFS1 delivers magnified images via USB port to AFL's M200 and M700 OTDRs and C840, C850, C860 and C880 OTDRs and Certification Testers. The OTDR or Certification Tester software displays, labels and stores captured images as part of optical cable installation and / or maintenance records. With electronic video inspection, the danger of eye damage from active fibers is entirely eliminated.

A large adjustment knob allows for easy focusing and a "trigger button" signals the attached device to capture the image for analysis and archiving. The DFS1 is powered through the USB port, eliminating the need for additional batteries or AC adapters.

The FiberScope is available with an assortment of adapters to support inspection of a wide range of optical jumper cable connector ferrules and bulkhead adapters. Bulkhead adapter tips are available in multiple lengths for easy connector inspection of recessed bulkheads, as well as 60 degree angle for inspection access in confined spaces. Connector adapters are available for PC, UPC or APC polished ferrules in 1.25 mm, 2.5 mm and additional diameters.

The DFS1 FiberScope is available in three different kits that include either PC/UPC adapters, APC adapters or no adapters. All kits are provided with a soft carry case, an adapter tip storage box, quick reference guide plus the FiberScope display software update for the M200, M700, C840, C850, C860 and C880 OTDRs.