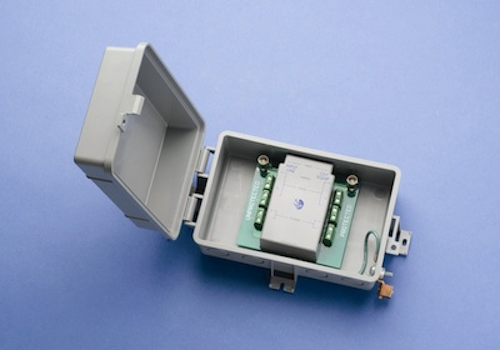 Solon, Ohio—The demand for high-speed wireless Internet and data network access over a wide area has grown at a rapid pace. This growth has led to a proliferation of access points (base stations) and subscriber units, which are often mounted at the highest point possible to ensure the maximum communication range. Unfortunately, these mounting locations also increase the possibility of lightning-induced surges and provide a point for static charges to collect.

To help protect valuable electronic equipment from damage, ERICO has developed rugged, weatherproof hybrid surge protectors that can handle at least 20,000 amperes of lightning-induced current. The MWE series of protectors is for tower or rooftop-mounted radio units and offers high surge-protection capabilities in weatherproof enclosures. Two MWE surge devices are recommended per base station or subscriber unit.

ERICO's wireless broadband surge protection products include:

MWECSPOE
Suitable for 10/100 BaseT Power Over Ethernet (PoE)-powered base stations, subscriber units, IP network surveillance cameras or any other PoE-powered device. Rated to handle up to 25 kA of lightning-induced surge current.

MWESS
For use with coaxial-fed CCTV surveillance cameras. Designed to provide all-in-one protection for up to four signal lines, an ac/dc power line and a coaxial video cable. Rated to handle up to 25 kA of lightning-induced current.

MWERJ451/2
For use with subscriber units or PoE-powered surveillance cameras.

MWE + TDS / DSD
To help protect 12/24/48 Vdc or 120/240 Vac aircraft warning lights. Rated to handle 40 kA (DSD) or 50 kA (TDS) of lightning-induced current.

DSD1402BR 24/48
Designed to protect 24/48 Vdc-powered base stations, subscriber units and other 24/48 Vdc-based systems. Rated at 40 kA Imax, this product offers substantial protection against lightning-induced surges.

Coaxial Surge Protection (CSP)
Designed to provide robust protection from transients on coaxial antenna RF feeder cables and GPS.

LAN
The Local Area Network Protector RJ45 series suits a range of applications from 10BaseT, 100BaseT, 1000BaseT to Power Over Ethernet networks.