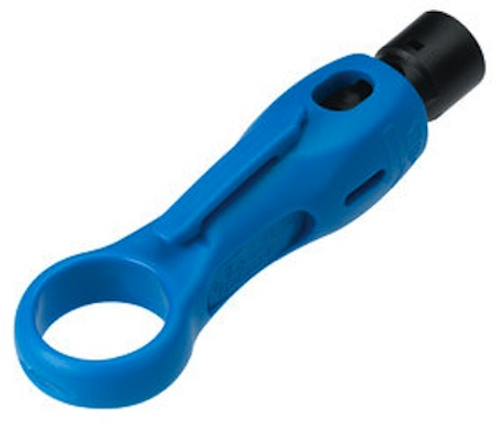 Sycamore, Ill., May 4, 2011—More than 70 percent of video reception problems can be traced to a bad cable connection. Lots of times, the culprit is a badly stripped length of cable.

IDEAL is helping to assure better connections by introducing its new 45-321 coax stripper expressly designed to perform cleaner, faster 1/4" x 1/4" strips of RG-6/6 quad and RG-59 coax cables used in the transmission of cable television, satellite broadcasting and analog CCTV signals.

The new stripper features a self-adjusting blade that instantly conforms to different diameter coax cables, resulting in higher accuracy at a lower overall cost of installation. The 45-321 has a spinner ring that orbits the full circumference of the cable to deliver faster stripping without compromising precision. Comfort is key to any successful hand tool. The 45-321 is ergonomically shaped, lightweight and easy to maneuver in tight spaces. It is also compact in size so it fits easily inside a pocket or tool tote.