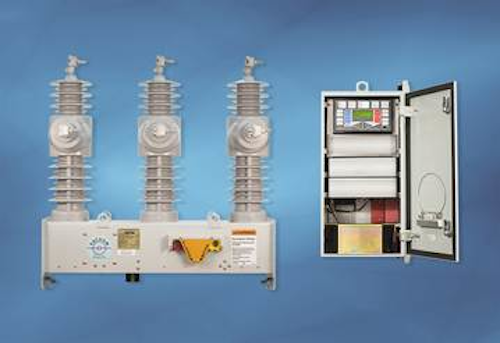 Utility equipment: Power management company Eaton introduced a Distribution Automation System (DAS) 3-phase switch with iDC switch control from its Cooper Power Systems division. This new solution comes standard with metering, sectionalizing and data acquisition functionalities, positioning it for existing or future automated smart grids. The switch utilizes the company¹s field-proven solid dielectric encapsulated vacuum NOVA technology and ProView platform for simplicity and overall system performance in utility applications.

"The demand for flexible, smart solutions continues to grow as customers look for ways to coordinate more protective products that can help reduce outages and restore service faster," said Jerry Yakel, marketing director, Power Reliability division -- Overhead Switchgear, Eaton's Cooper Power Systems division. "The new DAS switches do just that, and are unaffected by ice or other weather conditions, providing dependability and reliability in a wide range of conditions."

The new microprocessor-based iDC switch control integrates multiple switching profiles, Idea Workbench programmable logic tools, metering and real-time fault data to feed advanced intelligence directly into a facility's SCADA or feeder automation system. This makes it a power platform to improve reliability metrics, optimize grid performance and reduce restoration times when deployed as a standalone package or as part of an integrated automation system. Additional steady state knowledge is provided by flexible, instantaneous and demand metering with programmable integration intervals for system loading and planning, as well as native DNP3 mapping protocol.
The DAS switch encapsulates the axial-magnetic vacuum interrupter in a lightweight, solid cycloaliphatic epoxy. This allows the device to meet the demanding application requirements and harsh weather conditions utilities face, which ultimately helps lower overall total life-cycle costs. Manufactured with a solid insulation system, the product eliminates the need for insulating gas and liquid and offers an environmentally friendly alternative to sulfur hexafluoride (SF6) gas or oil.

New DAS switches are available at 15, 27 and 38 kilovoltage classes and are rated up to 800 amperes continuous current.

For more information about Cooper Power or other products, click here to go to Utility Products' Buyers Guide.