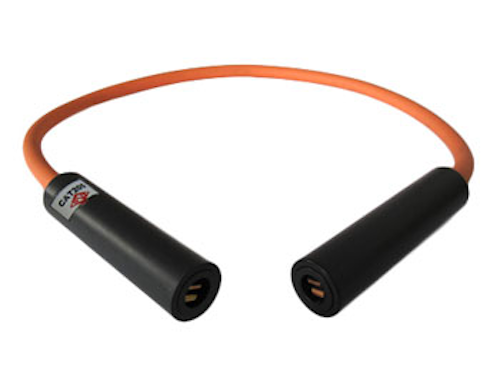 Utility supplies: TESCO introduces the Horn Bypass Jumper (Catalog No. 205). TESCO Horn Bypass Jumpers are used on self-contained meter services to temporarily supply a customer's power while the meter is removed from service. The Jumpers have a high-tension design, which firmly grip the horn bypass on a meter socket.
TESCO Horn Bypass Jumpers are constructed of 4-AWG heavy-duty copper wire, and rated at 600V/100A. The two copper connectors at each end of the wire are double-insulated for added safety. Unlike other jumpers, the TESCO Horn Bypass Jumper has been over-sized for ease-of-use with your personal protective equipment (PPE), which results in a higher quality product.
As with all TESCO products, the Horn Bypass jumpers are built with the tradition of reliability and ruggedness.
TESCO (The Eastern Specialty Company) is a manufacturer and service provider to the Electrical Utilities industry, owned by, run by, and staffed by engineers. Engineers who have spent the last 25 years working to address and solve the toughest metering problems -- whether they were equipment problems, system problems or regulatory issues. One of TESCO's continued strengths is the company's ability to successfully work with our utility clients in a variety of capacities. As customers' needs have changed and evolved, TESCO has diversified and added to the services we offer this unique market segment.

For more information about TESCO or other products, click here to go to Utility Products' Buyers Guide.