Safety products: Personnel cleaning station from Guardair
Utility supplies: Guardair's OSHA compliant cleaning station for workers eliminates injuries through innovative vacuum technology.
Mar 7th, 2014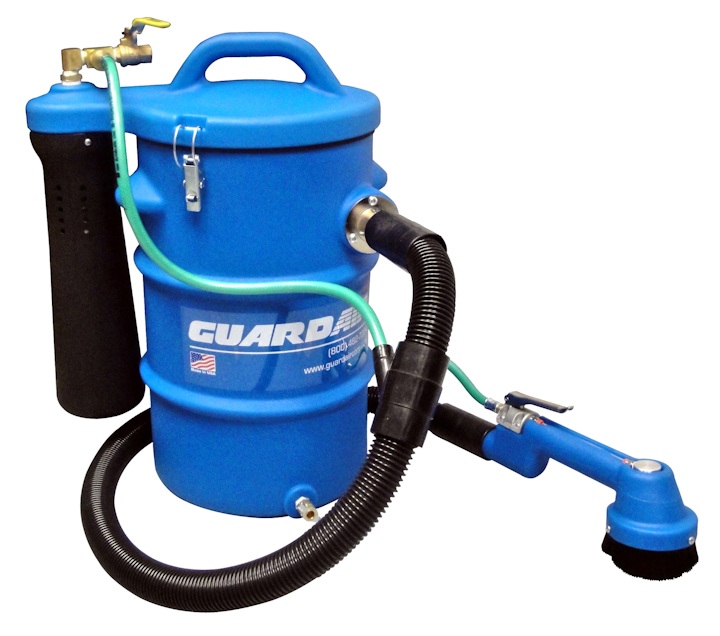 Utility safety: Guardair® Corp., a manufacturer of pneumatic tools used for cleaning and maintenance, announces the Personnel Cleaning Station (PCS). The PCS is a safe-to-operate vacuum designed to clean dust, powders, and debris off workers' clothing, thereby eliminating the dangerous practice of self-cleaning with compressed air.

OSHA Directive STD 01-13-001 prohibits the use of a "gun, pipe, or cleaning lance" for self-cleaning which might blow "a chip or particle into the eyes or unbroken skin of the operator or other workers." Use of the Personnel Cleaning Station eliminates this dangerous practice through innovative vacuum technology.

The high efficiency vacuum, produced by the PCS, runs off standard shop-compressed air and features a proprietary, on-demand air-agitator brush attachment. Thumb-switch activated, the air-agitator loosens and lifts particles airborne where the vacuum sucks them away safely and effectively. It is safe to use and captures the debris versus blowing it back into the air. Additionally pneumatic vacuums have no motor to burn out and are virtually maintenance-free.

The unit mounts on any vertical surface, saving valuable factory floor space. Constructed from rugged polyethylene, the Personnel Cleaning Station boasts an easy-to-empty design.

For more information about Guardair or other products, click here to go to Utility Products' Buyers Guide.