Utility supplies: Crimping tool from Platinum Tools
Utility equipment: Platinum Tools launches 10Gig termination tool at 2014 CEDIA Expo. Tele-Titan Xg 2.0 combines two crimpers into a single tool, making two-step crimping easy.
Aug 29th, 2014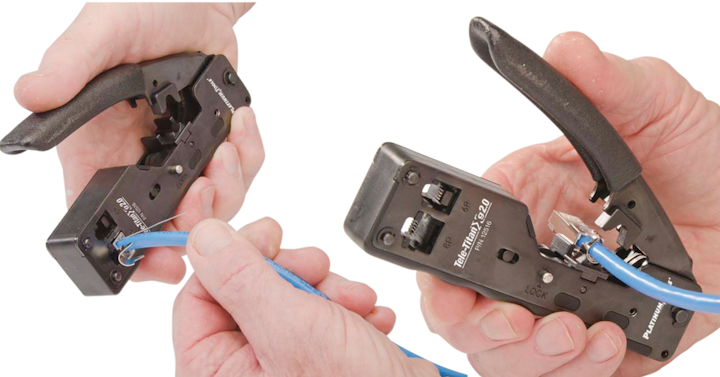 Utility tools: Platinum Tools, a provider of solutions for the preparation, installation, hand termination and testing of wire and cable, announces the debut of the Tele-Titan™Xg 2.0 (p/n 12516) during CEDIA Expo 2014, held in Denver from Sept. 11-13 at the Colorado Convention Center. The next generation 10Gig termination tool is now shipping.
"The next generation in our 10Gig yermination combines two crimpers into a single tool, making two-step crimping simple," explained John Phillips, Platinum Tools, product manager. "Like the original, the new Tele-TitanXg 2.0 along with our 10-gig shielded connectors, are engineered specifically for Cat6A cables to provide true 10Gig performance each and every time. The Tele-TitanXg 2.0 improves efficiencies by not having to change out tools in the middle of a termination."
With a compact and rugged design, the Tele-TitanXg 2.0 terminates to industry specified crimp heights while its straight action crimp is achieved with minimal hand force. The non-slip handle and finger grooves are designed for comfortable grip and control, and it includes a gun-style lock for secure closure.
Additional operation, applications, and specs include:
• S45C carbon steel frame
• Rust resistant black oxide finish
• RJ45 Cat6A/10Gig Shielded RJ45 connectors (exceeds 10-Gig performance standard, UL and RoHS compliant, max cable OD: 0.335in./8.5mm, max conductor OD: 0.053in./1.35mm)
• Cat6E, Cat6A, Cat7 & over-sized Cat5e/6 industrial Ethernet cables
• RJ12/11 connectors
• Length: 5.325in. (135mm)
• Weight: 10.5oz (296g)
For more information about Platinum Tools or other products, click here to go to Utility Products' Buyers Guide.