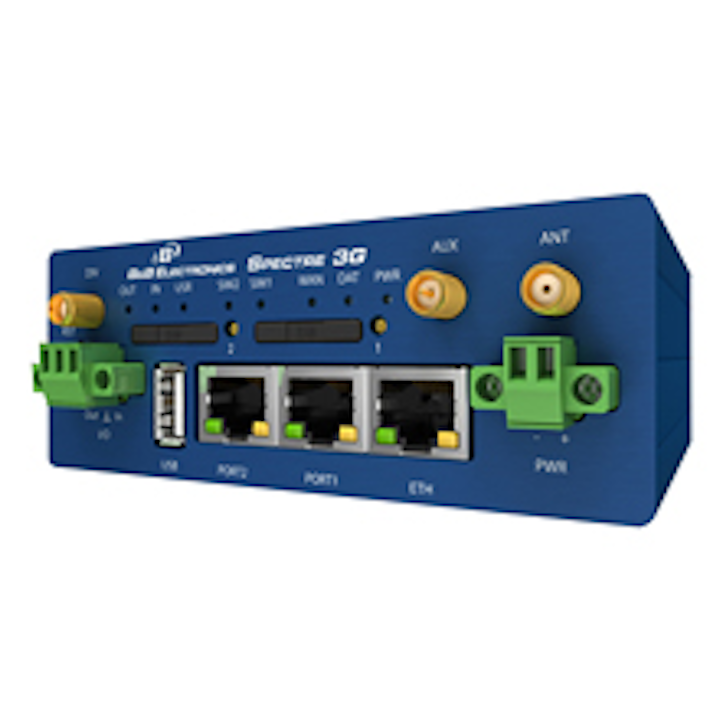 Utility supplies: B&B Electronics, a developer of mission-critical network connectivity solutions, and RacoWireless, a machine-to-machine (M2M) data solutions provider, announced that they have teamed up to offer a Spectre cellular router packaged with a prepaid wireless data plan as a starter kit for customers who are developing industrial M2M monitoring and control applications. Included with B&B Electronics' rugged Spectre 3G cellular router is a free, prepaid, 60-day trial 100MB/100 SMS RacoWireless 3G data plan, allowing customers to wirelessly connect their mobile equipment over the T-Mobile 3G cellular USA network within minutes of opening the package.

Developed to help network engineers jump-start their industrial M2M network designs, this kit allows users to develop their solution before having to commit to a full data plan. Customers contact B&B Electronics' technical support to activate their 60-day trial data plan and for technical assistance. At the end of the trial, customers can contact RacoWireless to purchase a data plan that best fits their M2M application.

"As an industrial cellular device manufacturer, it's our goal to work with partners like RacoWireless to facilitate device activation and connectivity for industrial customers, similar to the way the local cellular store does for consumers," said Jerry O'Gorman, CEO of B&B Electronics. "Customers can expect seamless support from both companies to ensure that their application operates smoothly."

RacoWireless is an expert in big data and wireless connectivity, including data billing, roaming and virtual private networking (VPN), which is key to provisioning devices with network connectivity. "This partnership simply makes sense," added John Horn, president of RacoWireless. "The hardware expertise that B&B Electronics brings to the table, combined with the device management tools and connectivity that RacoWireless provides, allows companies throughout the country to come to market faster with a fully developed solution."

The B&B Electronics/Raco Wireless Starter Kit
The B&B Electronics Spectre 3G cellular router, together with the RacoWireless network services, provides everything customers need to connect, develop, deploy and use M2M applications on the secure USA T-Mobile 3G cellular data network. The kit includes:
• Spectre 3G HSPA+/GPRS/GSM cellular router
• 10/100 Ethernet, RS-232/422/485, 802.11 Wi-Fi
• Free 60-day prepaid trial
• 100 MB data usage
• 100 SMS
• B&B Electronics' technical support
• Raco's Omega Management Suite for account management, control, and reporting
Built for plug-and-play simplicity with extensive remote management, deployment and customization options, the rugged Spectre 3G wireless router wirelessly extends local M2M networks connected via Ethernet 10/100 and RS-232/422/485 with enhanced features such as Modbus and Wi-Fi. Users manage the router's robust configuration options through a secure and easy-to-use Web interface or a powerful scripting engine. A rugged design with a wide operating range (-30C to 60C) make the router ideal for M2M connectivity in harsh, remote environments.
For more information about RacoWireless, B&B Electronics, or other products, click here to go to Utility Products' Buyers Guide.