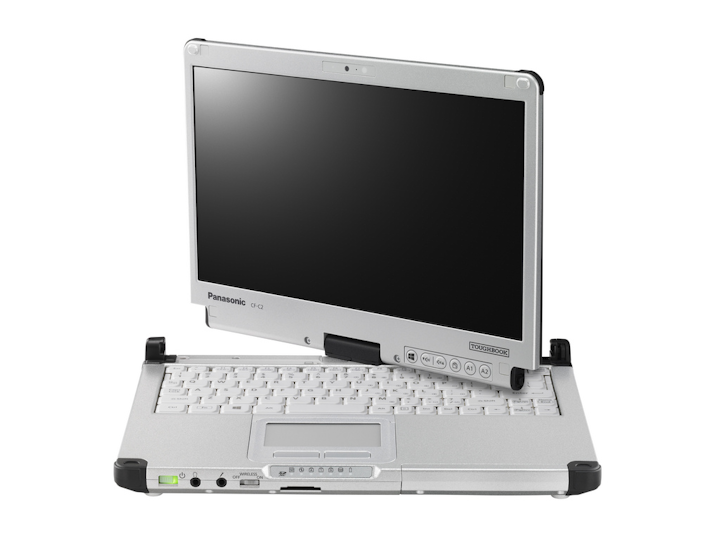 Utility equipment: Panasonic, a provider of rugged, reliable mobile computers since 1996, has announced upgrades to the Toughbook® CF-C2 semi-rugged convertible tablet PC. Offering 4G LTE multi-carrier embedded wireless broadband connectivity, approximately 14 hours of battery life and industry-leading durability, the Toughbook CF-C2 is built to enable reliable connections between data and decision makers, wherever, whenever and however they need it. Powered by a 4thgeneration Intel® Core™ i5 processor and optimized for the new Windows 8.1 Pro operating system, it delivers improved performance that makes it ideal for highly mobile professionals in fields such as healthcare and field services.

Panasonic Toughbook CF-C2: Key Improvements
• Seamless connectivity: 4G LTE multi-carrier embedded wireless broadband
• Leading battery life: Now 3 hours longer – approx. 14 hours of continuous use per MobileMark 2007 testing depending on usage conditions (approx. 19 hours with optional long-life battery). In addition, a bridge battery allows the main battery to be swapped without powering down the device
• Advanced operating system: Microsoft Windows 8.1 Pro 64-bit with Microsoft Windows 7 Professional downgrade option available
• Next-generation processor: Intel® Core™ i5-4300U vPro™ (up to 2.9GHz) with Intel Turbo Boost Technology
• Improved graphics: Intel® HD Graphics 4400
• Camera enhancements: 1.2MP high definition webcam with built-in microphone and optional 5MP rear-facing camera

"Even as technology evolves, at the core all our customers are looking for the same thing -- performance, reliability, connectivity and flexibility," said Kyp Walls, director of product management, Panasonic System Communications Company of North America. "We've made significant improvements to each one of these attributes for the Toughbook CF-C2, and we expect it to continue to be one of the most versatile and popular models in our Toughbook line."

Seamless High-Speed Mobile Connectivity
The Toughbook CF-C2 is among the first Toughbook models to offer 4G LTE multi-carrier wireless connectivity. This enables mobile professionals to remain highly productive by accessing cloud-based applications, sharing large files, streaming rich HD content, and connecting virtually wherever they are in the world. The ability to select through software which carrier to use enables IT administrators in multi-carrier, multi-national organizations to dramatically simplify the ordering and management process with a single stock keeping unit (SKU) for their entire mobile workforce, regardless of their geographical location.

Other Toughbook models now available with multi-carrier 4G LTE wireless connectivity include the Toughbook CF-31 rugged laptop, the Toughbook CF-53 semi-rugged laptop, The Toughbook CF-19 fully-rugged convertible tablet and the Toughpad™ FZ-G1 tablet.

Enterprise-Grade Flexibility with Semi-Rugged Durability
The Toughbook CF-C2 employs an enhanced triple hinge design that provides durable support when rotating the screen from laptop to tablet mode. At 3.99 lbs with an ergonomic Y-shaped hand strap, it is designed for comfortable long term handheld use. With anoptional lightweight battery, the device weighs just 3.7 lbs and still delivers approximately 7 hours of continuous power. And for maximum performance, the Toughbook CF-C2 offers optional 128GB and 256GB solid state drives.

It is designed to withstand a wide variety of work environments with a magnesium alloy case and shock-mounted flex-connect hard drive allowing it to handle up to a 30-inch drop to six sides, as well as a 12-inch drop from 26 angles. The computer also features a spill-resistant keyboard (up 6 ounces).

With its 12.5-inch 10-point capacitive multi touch HD screen, touchpad with multi touch gesture recognition, keyboard and availabledigitizer pen, the Toughbook CF-C2 serves as the ideal platform for Windows 8.1 – designed to provide fast and fluid experience equally via touch or keyboard/touchscreen input.

The Toughbook CF-C2 is built for customers in a wide range of vertical markets, such as emergency first responders, home health care workers, insurance claims adjusters and field sales and service workers. In healthcare, its fanless design means no air is drawn in or out of the device, minimizing the spread of airborne pathogens when used as a mobile point-of-care solution.

Flexible configuration options including the optional inclusion of a serial port, VGA (HDMI port comes standard) or modem port, as well as optional near field communications (NFC) or SmartCard reader for user authentication.

For more information about Panasonic or other products, click here to go to Utility Products' Buyers Guide.