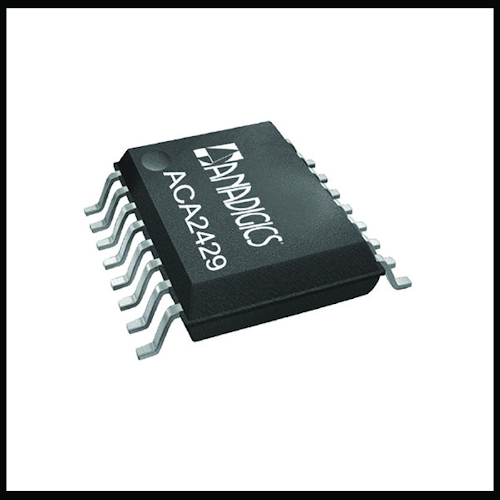 Utility supplies: Richardson RFPD Inc. announces the availability and full design support capabilities for a new 50 to 1218 MHz GaN CATV power doubler amplifier from ANADIGICS. The ACA2429 is a highly linear, high output power, integrated RF amplifier designed for CATV head ends and HFC distribution systems. The IC consists of two parallel amplifiers that are optimized for exceptionally low distortion, high output power, and high crash point, in a thermally-enhanced surface mount package. The device incorporates a GaN output stage to minimize operating (bias) current. The ACA2429 provides high gain over the 50 to 1218 MHz CATV downstream band, and is cascaded between two transmission line baluns. Frequency coverage up to 1218 MHz makes it suitable for the new DOCSIS 3.1 CATV standard.

According to ANADIGICS, additional key features of the ACA2429 include:
• +59 dBmV output power
• 25 dB gain @ 1218 MHz
• 1 dB tilt over bandwidth
• Single +24V supply
• 430 mA operating current
• -78 dBc composite triple beat (CTB), -66 dBc composite second order (CSO)
• 10 mm x 10 mm SOIC-16 package

The new device is ideally suited for advanced high power, high frequency HFC transmission systems, as an output power doubler for deep fiber node in CATV distribution, and as a CATV digital edge QAM output driver.

About Richardson RFPD
Richardson RFPD / Arrow RF & Power, an Arrow Electronics company, is a global leader in the RF and wireless communications, power conversion and renewable energy markets. It brings relationships with many of the industry's top radio frequency and power component suppliers. Whether it's designing components or engineering complete solutions, Richardson RFPD's worldwide design centers and technical sales team provide comprehensive support for customers' go-to-market strategy, from prototype to production.
For more information about Richardson RFPD or other products, click here to go to Utility Products' Buyers Guide.