Mobile computer from Handheld Group
Handheld computer: Handheld's NAUTIZ X4 rugged computer for the mobile worker now also with Android.
Sep 30th, 2014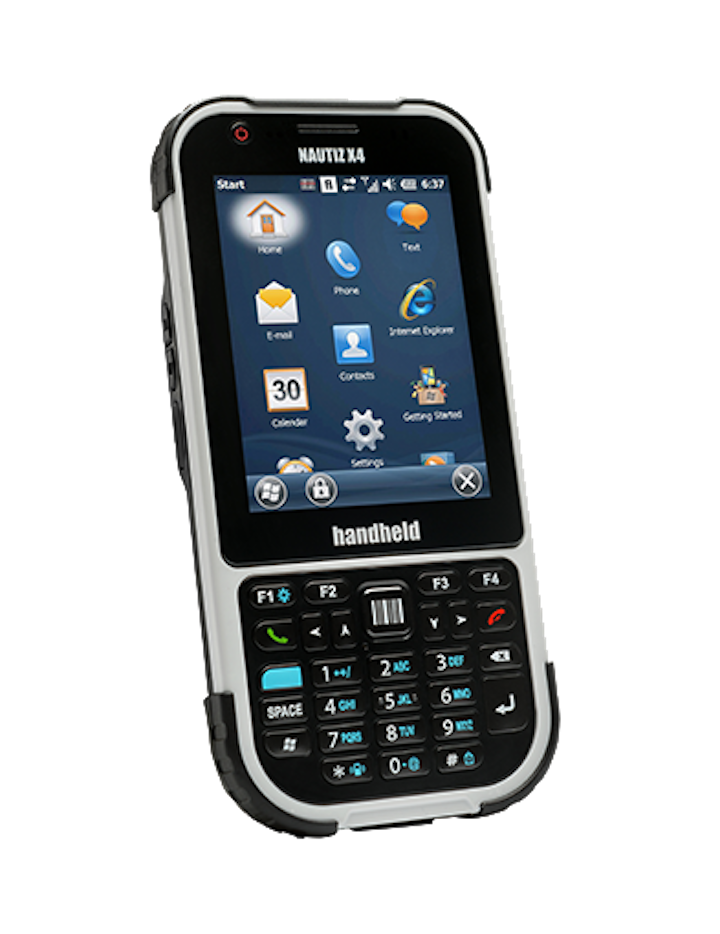 Utility supplies: Handheld Group, a manufacturer of rugged mobile computers and smartphones, has announced an upgrade of the Nautiz X4 rugged handheld, which was launched earlier this year. The Nautiz X4, a multipurpose compact handheld computer built for the mobile worker, now also runs Android 4.2 that gives customers a wider choice of operating systems.

The Nautiz X4 is optimized for efficient field data collection. It has been designed and developed specifically for mobile workers in tough environments in industries such as utilities, warehousing, logistics, transportation, field service, security and public safety.

Measuring only 6.1 x 2.9 x 1.0 inches and weighing a mere 11.6 ounces, the Nautiz X4 features a high-brightness, sunlight-readable resistive touchscreen for reliable computing in challenging worksite environments, and comes complete with either a high-performance 1D laser scanner or a 2D imager for super-fast and accurate scanning and barcoding tasks. The device also features a 5MP camera with auto focus and LED Flash.

The Nautiz X4 has an IP65 Ingress Protection rating, which means that it is impervious to dust and highly resistant to water. It also meets stringent MIL-STD-810G military test standards for overall durability and resistance to humidity, shock, vibration, drops, salt and extreme temperatures.

"The Nautiz X4 has become the obvious choice for mobile workers in a wide range of industries thanks to its ultimate mobility with true field functionality in a handy package and at a very attractive price," said Johan Hed, Product Manager Handheld Group. "To offer our customers a wider choice, we now introduce the option to get a Nautiz X4 with either Android 4.2 or Windows Embedded Handheld 6.5."

The Nautiz X4 rugged handheld computer has an integrated u-blox GPS receiver for professional-grade navigation functionality and it offers multiple connectivity options, such as high-powered 3G and excellent Wi-Fi capability. It has a high-speed 1 GHz processor, 512 MB of RAM and 1 GB of flash memory, and it runs Android 4.2 or Windows Embedded Handheld 6.5.

Orders for the Nautiz X4 rugged handheld with Android can be placed immediately.
For more information about Handheld Group or other products, click here to go to Utility Products' Buyers Guide.