Lift platform: Low-level scissor lift from Custom Equipment
Construction equipment: Custom Equipment introduces Hy-Brid HB-P827 lift for exceptional maneuverability, productivity on low-level jobs.
Jun 11th, 2014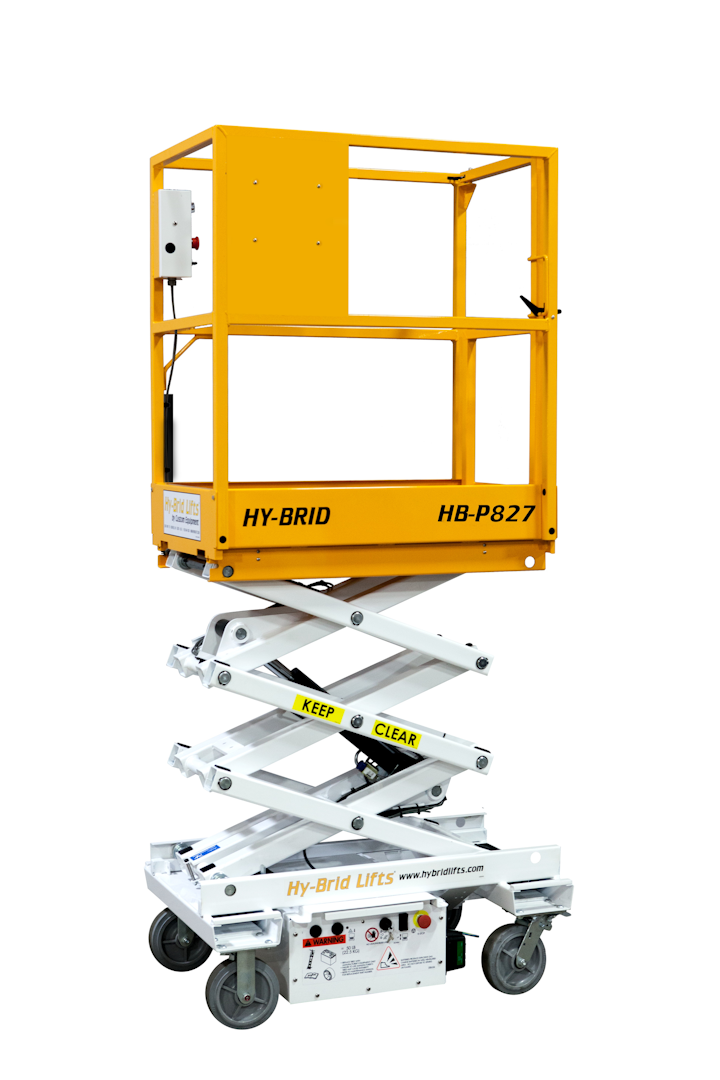 Utility equipment: The new HB-P827 low-level scissor lift from Custom Equipment gives contractors and maintenance crews a lightweight lift with a zero turn radius for damage-free use over delicate floors and easy maneuverability around tight corners. The all-purpose push model offers a working height of 14 feet for projects such as electrical, sprinkler, drywall and HVAC system installation. Custom Equipment also offers the unit in a CE compliant model, the HB-P4.5.
The platform on the HB-P827 is 22 inches wide and 43 inches long to give users ample working area. The ANSI/CSA-compliant HB-P827 lift can hold as much as 500 pounds, and the CE-compliant HB-P4.5 can hold up to 550 pounds, or 250 kilograms. The CE unit also is equipped with a platform overload protection sensor that alerts the operator if there is too much weight on the platform.
Because the HB-P827 lift is lightweight, user can work on fragile flooring, such as tile, laminate, raised floors and mezzanines, with much less potential for damage. They also can get onto poured concrete several days sooner with the HB-P827 lift than with heavier competitive models.
The HB-P827's hydraulic system is completely self-contained with only two connection points. This reduces the potential for hydraulic fluid leaks, which lead to floor damage and potential safety hazards, and provides a clean system for operating indoors in either finished or unfinished environments.
Custom Equipment uses finite element analysis software to test its designs before building all of its lifts, including the HB-P827. This process allows the company to use a stronger, higher grade of steel so less material is required, and the results are lifts that are lighter than other manufacturer's machines. In addition, the program identifies stress points so they can be reinforced without adding unnecessary weight. Custom Equipment also builds its HB-P827 with a robust scissor stack that features oversized, 1.25-inch pins to enhance stability and reduce scissor sway associated with smaller pins that are typically used on competing lifts.
The company designed its Hy-Brid HB-P827 lift to provide safer, easier access to the platform with an entry height of 25.5 inches, one of the lowest available. This not only reduces fatigue and knee strain associated with climbing on and off the lifts, but also nearly eliminates the potential for falls that can occur when operators are loading and unloading heavy tools and supplies. The enhanced safety results in fewer Workers' Compensation claims and less impact on the bottom line. The HB-P827 also features an access gate that swings completely open to allow users to step up and into the platform. The full-access gate eliminates the need to duck under bars or chains, thereby removing much of the potential for neck or back strain injuries.
For more information about Custom Equipment or other products, click here to go to Utility Products' Buyers Guide.