Utility tools: Lithium series battery gun line introduced
Utility equipment: HYTORC debuts lithium series battery gun line at POWER-GEN International. New technology will bring mobility to industrial bolting industry.
Dec 10th, 2014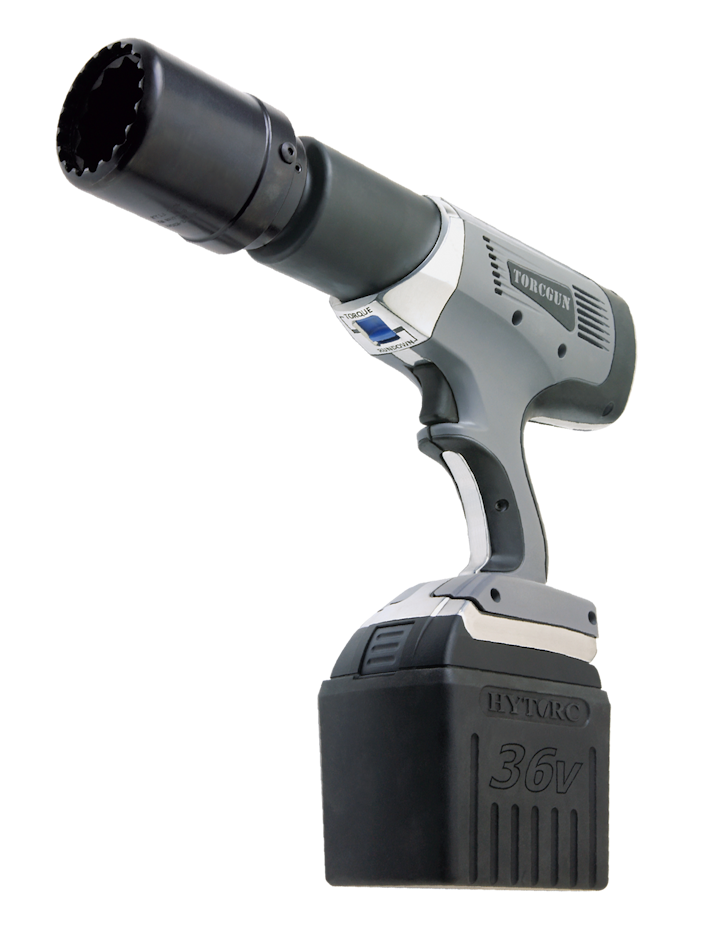 Utility supplies: Dedicated to improving safety, speed and accuracy in industrial bolting, HYTORC has always pushed the limits with innovative tool designs, solutions and improvements for the industry. The company continues this tradition of industrial bolting revolutions with its newest innovation, the Lithium Series Battery Gun, which was unveiled today at the POWER-GEN International trade show in Orlando, Fla.
The Lithium Series is a groundbreaking addition to HYTORC's current line of dynamic bolting equipment. The industry-leading battery life and portability of these tools are long awaited features in this industry. This new product line is expected to open countless doors for HYTORC's existing customers while simultaneously expanding HYTORC's reach to new industries. With the need for external wires, pumps and additional handling parts removed, the HYTORC battery guns are able to greatly expand jobsite reach.
"Our company was centered on the trademark hydraulic tool offerings, many of which still dominate the product line today," said Jason Junkers, chief operating officer of HYTORC. "However, we are always striving to discover the next big break in industrial bolting technology. Our research and development team aims to stay on the cusp of new technology while continuously improving safety, speed and accuracy. Recent milestones include the ICE hydraulic bolting system, revolutionary new air tools, and now, our Lithium Series Battery Guns."
The 36-volt Battery Gun is a huge technological advancement for the HYTORC line, featuring an integral metal frame with a color graphical user interface. The two-speed gun has the capability for both torque and angle practices, and will have a product line that includes numerous output capacities, comprising of 250-, 700-, 1,000- and 2,000-foot-per-pound models.
"This revolutionary addition to our current product lineup will continue to position the HYTORC brand as a powerhouse in the field," said Eric Junkers, president of HYTORC. "The Battery Gun is a highly anticipated product; it's been in development for several years, but we refused to release it until it could provide the power and reliability expected from a product that carries the HYTORC name. I¹m proud to say that we have now accomplished that."
ABOUT HYTORC
HYTORC is the world's largest and oldest manufacturer of industrial bolting systems. The international company is family-owned and operated, and has been in business since 1968. With a focus on world-class customer service, the company has more than 50 locations in the United States and a comprehensive network of dedicated distributors and service centers worldwide.
For more information about HYTORC or other products, click here to go to Utility Products' Buyers Guide.