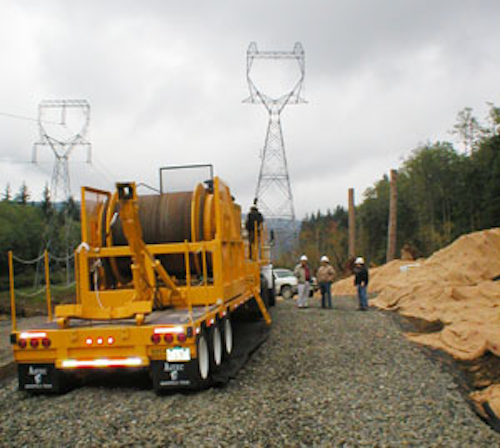 Utility line construction: TSE International designs, manufactures and markets America's most complete range of tension stringing equipment for the construction and maintenance of electrical transmission and distribution lines. The TSE product line includes specialized solutions covering all overhead and underground pulling units, tensioners, stringing blocks, swivels, ropes and other accessories.
Building on this experience, TSE also provides engineered underground conductor pulling and removal equipment for electric utilities and for the telecommunications and fiber-optic industries.
To further support customer needs to operate efficiently in remote areas, TSE designs and manufactures industry-leading equipment for maintaining access to right-of-way corridors, including the Timberland Tree Trimmer and all-terrain utility carriers.
Learn more about TSE equipment for:
• Transmission line pullers, tensioners and accessories
• Distribution line pullers, tensioners and accessories
• Stringing Blocks
• Underground cable pullers and reels
• Tension stringing accessories
• Surface Mining
• Right-of-way maintenance equipment
For more information about TSE International or other products, click here to go to Utility Products' Buyers Guide.