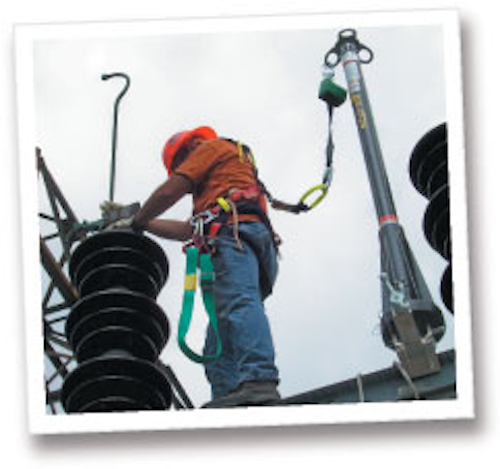 Work safety equipment: The Uni-Lite fall arrest tower is intended to provide an elevated fall arrest anchorage for up to three persons. The system is composed of a composite tube and cast aluminum base. The upper insert features a 360° swivel tie off for attachment of up to three personal fall arrest systems, when used in conjunction with a 900 lb. MAF (Maximum Arrest Force) fall arrest device.
The composite tower is inserted into a cast aluminum base that can be pinned in place to any one of the various base plates. It may be used with a number of different weld-on or bolt-on mounting bases. May also be used with the adjustable anchor clamp. This portable anchorage system can be used on top of transformers and other areas where walking/working surface hazards may be present. Certified as a 3-person fall arrest anchorage as per OSHA Section 1910.66 & ANSI Section A10.14.
For more information about Pelsue or other products, click here to go to Utility Products' Buyers Guide.