Utility safety: Trapped key interlock delivery and service
Safety products: Kirk provides trapped key interlock delivery and service to Canadian electrical market. Sales team and representative network services electrical switchgear customers across US and Canada; including Federal Pioneer V-Series users.
Dec 4th, 2014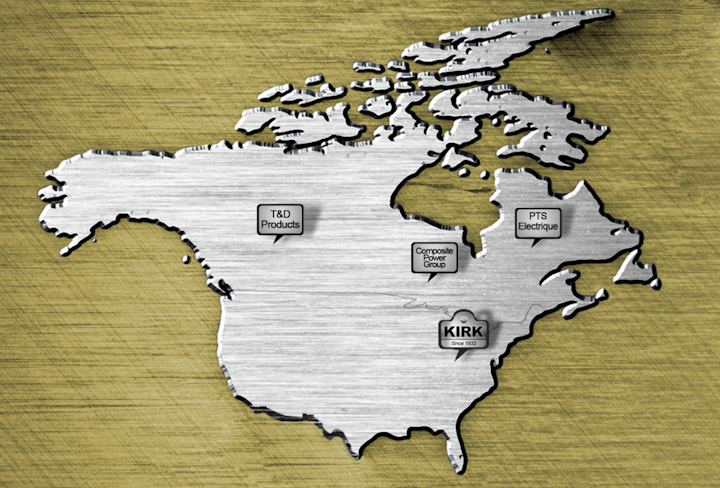 Safety tools: Kirk has been manufacturing quality trapped key interlock products and interlocking solutions in the USA since 1932. Over the past 10 years, Kirk has actively expanded its representative base into the Canadian market, partnering with experienced representatives to ensure Canadian customers receive the same high level of service they've come to expect from Kirk.
Kirk's representative base extends across Canada. British Columbia, Alberta, Saskatchewan, and Manitoba are served by T&D Products (780-419-7145). Composite Power Group (519-942-8485) serves the Ontario market. Customers in Quebec may contact PTS Electrique (514-457-8886) for service. All representatives and their teams are knowledgeable about Kirk's products and can aid in determining customer specific needs, products, and schemes.
Kirk has also recently entered into an agreement with Schneider Electric to provide exclusive service for Schneider Electric's Federal Pioneer V-Series key interlocks. Federal Pioneer customers can contact Kirk directly or work through the Canadian representatives to order replacement keys or equivalent replacement V-Series interlocks.
Kirk key interlocks have been instrumental in protecting personnel and equipment and continue to be an important part of process safety worldwide. Trapped key interlocking is accepted by global standards, safety, and insurance authorities as the most reliable and cost effective method to guard against operator error and hazardous energy discharge.
For more information about Kirk or other products, click here to go to Utility Products' Buyers Guide.