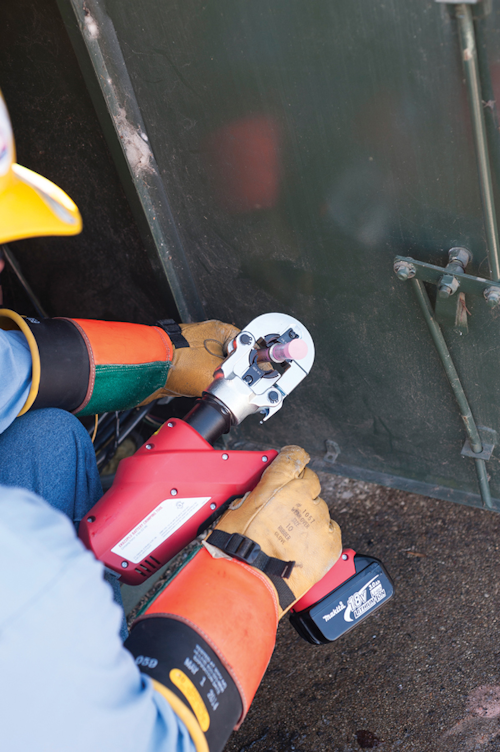 Utility tools: Greenlee® / A Textron Company, continues to drive innovation by adding to its extensive line of crimping tools with the new 6-ton Pistol Grip, model EK622PLU. This crimping tool offers the ergonomics, intelligence and accountability that is found in all Greenlee Gator crimping products.

The 6-ton Pistol Grip is developed for underground and overhead utility applications, as well as industrial and commercial environments. Its lightweight, ergonomic design is perfect for work in overhead or tight environments at just 6.5 pounds. This crimper offers a two-stage hydraulic system that has fast feed and power stroke features, automated retraction, and single trigger operation controls.

The new crimping tool comes with proven Intelli-CRIMP technology that monitors the tool 32 times every second, and is the most intelligent crimping tool on the market today. Its compatibility with Greenlee's Gator Eye allows users to get the most from their tool with the ability to track work history, generate reports, performance logs, and indicates when the tools needs to be recalibrated.

The 6-ton Pistol Grip is compatible with all major lug and spice manufacturers - UL and cUL classified with Anderson®, Blankburn®, Burndy®, ILSCO®, Panduit®, Penn-Union® and Thomas& Betts®, and both U and W style dies. It accepts Greenlee KC22 and KA22 series crimp dies and includes 04292 die adaptors, which can be used with all industry "W" style crimping dies and Greenlee KD6 style dies. It can also be used on copper material 8AWG-600MCM and aluminum material #8AWG-350MCM.

For more information about Greenlee or other products, click here to go to Utility Products' Buyers Guide.