Safety products: Wire connectors receives UL safety rating
Utility safety: IDEAL's Wire-Nut 73B wire connectors line has received the Underwriters Laboratories UL 2043 Air Handling Safety Rating.
Dec 10th, 2014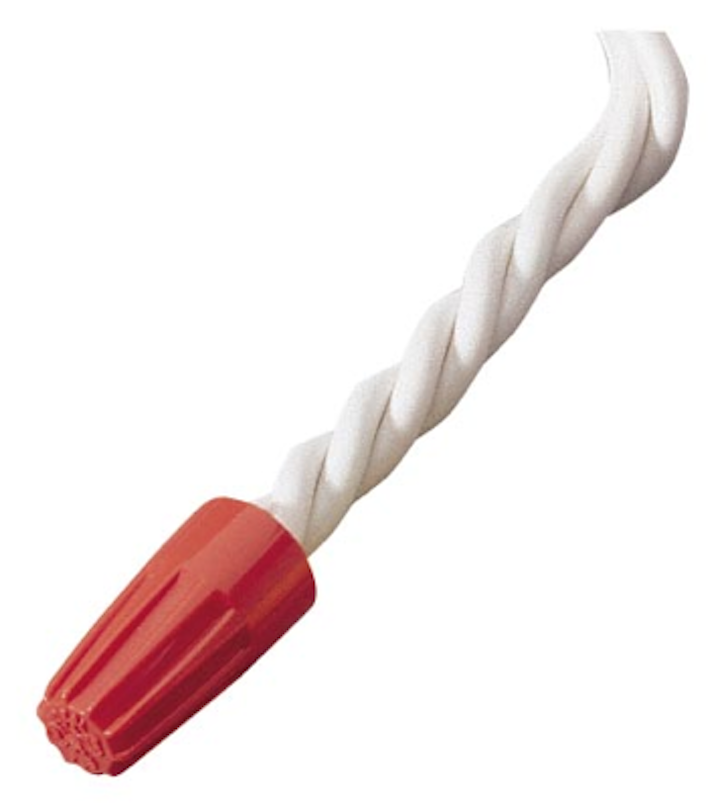 Wire connectors: IDEAL INDUSTRIES INC., a provider of professional grade tools and supplies for electricians, maintenance contractors, OEMs and data communications installers, announced that its Wire-Nut® 73B® wire connector line has received the Underwriters Laboratories UL 2043 Air Handling Safety Rating. This important development enables electricians to now safely and cost-efficiently use Wire-Nut® 73B® black or orange wire connectors on Class 2 or low-voltage connections inside plenums, ducts, and other spaces used for environmental air handling - such as the space above a drop ceiling or below a raised flooring system - without enclosing the connection within an electrical box.
"Air handling spaces can let fire and smoke travel quickly from one area of the building to another," said Ben Swedberg, Business Unit Manager of Electrical Connections for IDEAL. "The IDEAL Wire-Nut® 73B® wire connector with its fire-retardant thermoplastic shell has been verified to limit the amount of smoke and heat generated when exposed to a fire. Being able to now use this connector without the need for installing a J-box in these types of areas can save an electrician time and money. They are a safer, more economical way to connect in air handling spaces."
Life-safety requirements issued by the National Fire Protection Association in NFPA90A specify what components and systems can be installed within an air handling space. The IDEAL Wire-Nut® 73B® wire connector line meets those requirements. There are two models within the line:
• Standard Wire-Nut® 73B® Wire Connector (Orange) - This connector has a square-wire spring to eliminate the pre-twisting of wire for installation. Rated for up to 600V and 105◦C (221◦F), the Orange 73B® connectors are suitable for the deployment of low-voltage wiring in air handling spaces where a box is not required, such as speaker installation, video cables, or security/alarm systems.
• High Temperature Wire-Nut® Wire Connector (Black) - This connector has all the same features of the standard Wire-Nut® but is rated for temperatures up to 150◦C (302◦F).
WIRE-NUT®: AN INDUSTRY STANDARD
IDEAL Wire-Nut® wire connectors are the preferred twist-on connector brand for professional electricians and OEMs, providing superior reliability, safety and value. Their fixed, square-wire spring creates its own threads when applied; assuring a secure positive grip that will not relax over time. To help reduce the occurrence of turned-back wire strands, Wire-Nut® wire connectors feature a deep, wide skirt that prevents against flash-over while guaranteeing maximum dielectric protection. Contractors appreciate that no-pretwisting is required with Wire-Nut® wire connectors, resulting in faster, trouble-free installations on busy job sites.
Wire-Nut® is a registered trademark of IDEAL INDUSTRIES, INC.
For more information about IDEAL or other products, click here to go to Utility Products' Buyers Guide.