Utility equipment: Electronic rotary latching solutions
Utility safety: Southco expands electronic rotary latching line with new R4-EM 8 series.
Dec 17th, 2014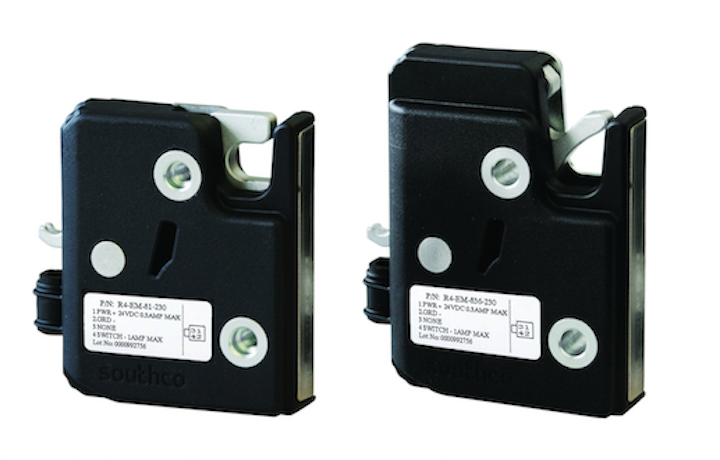 Safety products: Southco Inc., a provider of engineered access solutions, has recently expanded its successful line of electronic rotary latching solutions with the release of the R4-EM 8 Series Electronic Rotary Latch. The R4-EM 8 Series combines the efficient and robust performance of a rotary latch mechanism with simplified DC motor actuation.
The R4-EM 8 Series is available with or without an extended housing option to accommodate door sensing and to provide added protection of the locking cam. Additionally, the R4-EM 8 Series is available with an integrated connector and mechanical override bracket, and features simple, concealed two-hole installation. With a high working load and ultimate load, the R4-EM 8 Series ensures reliable, secure operation across a variety of applications.
General Manager Steve Spatig adds, "Southco's R4-EM 8 Series Electronic Rotary Latch enables simplified electronic locking and monitoring for applications that incorporate intelligent electronic control systems."
Southco is the leading and trusted global source for engineered access hardware solutions, including a variety of latches, locks, captive fasteners, quick access fasteners, hinges, handles, inserts, electronic access solutions, and other accessories for applications in the networking, telecommunications, computer, automotive, aerospace, mass transit, off-highway/construction, RV/caravan, industrial machinery, marine and HVAC industries.
Southco is passionately focused on delivering customized engineering solutions and global support for its customers. The company aspires to be a virtual engineering center for its customers' engineered access solutions and is committed to providing outstanding quality and overall satisfaction. Southco's promise to its customers is to connect, create and innovate to provide the best solution for every access engineering problem.
For more information about Southco or other products, click here to go to Utility Products' Buyers Guide.