Utility supplies: Gigabit switch redesigned to improve uptime in harsh environments
Utility equipment: New features on Belden's Hirschmann modular switch enable easier installation, space savings and higher network availability.
Dec 18th, 2014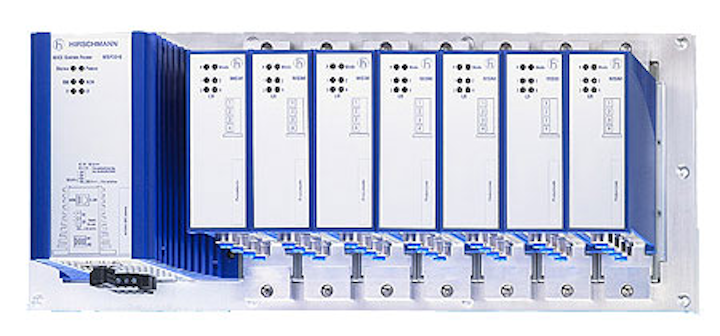 Utility supplies: Belden Inc., a provider of signal transmission solutions for mission-critical applications, has redesigned its Layer 3 modular Gigabit switch to create a new version, the MSP30-X Modular Switch, which is ideally suited for extreme environments. The switch not only maintains its modular and flexible design, but with enhancements, it saves customers costs and space by offering the ability to be placed near harsh environments.

This Hirschmann switch has a combination of Layer 3 features, including time synchronization for time-critical data and wall-mounting capabilities, bringing new advantages to the industrial market and their ability to keep networks up and running at all times.

"The Gigabit switch's ability to function in harsh operating areas is a first-time capability for modular switches, like those in Hirschmann's MSP portfolio," said Product Manager Vinod Rana. "Previously, Ethernet devices were placed in the control room, and only fixed, configured products could be used in the operations area. Now, customers can have both modularity and flexibility in their networking products and place them into the harsh operations area."

The features of this product have been designed with customer feedback in mind. Approved by global GL standards for Environmental Category D, the MSP30-X is ideal for engineers, integrators, machine builders and plant operators in the transportation, machine building, power transmission and distribution, oil and gas, mining, wind power, and other hazardous industries.

"Customers have been asking for rugged, reliable and flexible Ethernet products for use in their engine rooms, specifically devices that can withstand extreme industrial conditions, like 4g vibrations," said Rana. "The specifications of this product make it especially ideal for our transportation customers, as it has the necessary approvals to operate in harsh transportation settings, like seaports and railroads."

Some important features of the MSP30-X switch include Precision Time Protocol version 2 for real-time data, Layer 3 routing capabilities for network extensions, an operating temperature range from -40C to +70C and up to 100 percent relative humidity, and a high number of security features to protect and facilitate maximum network availability. It also has additional brackets for mounting of modules on the main device body and Ethernet cables that can be tightly screwed onto the module using M12 connectors.

An early innovator in industrial Ethernet, Belden knows Industrial IT and is delivering the next generation of industrial networking solutions. Its global brands ­ Hirschmann, GarrettCom and Tofino Security ­ are leading the way in the adoption of industrial Ethernet. With a purpose-built portfolio, Belden's wired, wireless and embedded products deliver the highest confidence of reliability, availability and security. In addition, excellent warranties and dedicated customer support minimize downtime, protect critical infrastructure and provide peace of mind.

About Belden
Belden Inc., a global leader in high-quality, end-to-end signal transmission solutions, delivers a comprehensive product portfolio designed to meet the mission-critical network infrastructure needs of industrial, enterprise and broadcast markets. With innovative solutions targeted at reliable and secure transmission of rapidly growing amounts of data, audio and video needed for today's applications, Belden is at the center of the global transformation to a connected world. Founded in 1902, the company is headquartered in St. Louis and has manufacturing capabilities in North and South America, Europe and Asia.
For more information about Belden or other products, click here to go to Utility Products' Buyers Guide.