Utility supplies: In-line wire connector
Utility equipment: SpliceLine in-line connectors save time for pre-fab shops, lengthen too short electrical wires. Crimp-free, push-in butt splice cuts connection time in half.
Oct 20th, 2014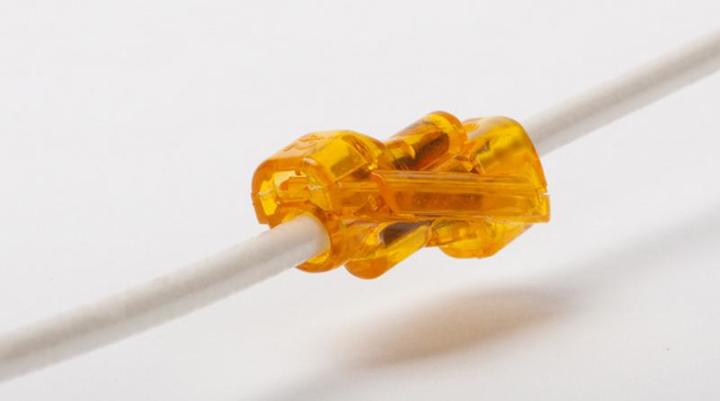 Utility supplies: The IDEAL SpliceLine in-line wire connector is an innovative alternative to traditional butt splices that reduces time and cost for pre-fab shops and electricians. Its push-in design eliminates time-consuming crimping, soldering or heat shrinking to create secure end-to-end connections.

In today's market, pre-fab shops must take advantage of every opportunity to maximize manufacturing speed. SpliceLine connectors install in seconds on a wide range of wires with push-in ease. Plus, standardizing on SpliceLine will help pre-fab shops reduce design complexity, simplify purchasing and delivery logistics, and reduce overall costs.

Another application for the SpliceLine is to lengthen wires in tight spaces that are physically too short. Electricians are oftentimes confronted with an existing wire that has been cut too short by the previous contractor to safely install a receptacle, light switch or lighting fixture. In these situations where a standard WireNut® style connector is too large, a SpliceLine connector can be safely used to splice the wire and make it possible to install either additional wire or the device.

SpliceLine's two ports support the industry's widest range of solid and stranded wires, allowing a single SpliceLine connector to take the place of three standard butt splice sizes, resulting in reduced inventory needs for distributors and more space inside the electrician's tool bag.

SpliceLine is not constructed of flimsy vinyl or nylon. Instead, its shell is precision-molded from a transparent polycarbonate that permits visual inspection of connections. Thanks to the shell's ultra-slim profile, multiple connectors can easily and simultaneously pass through the 1/2" knockouts found in most electrical boxes.
ABOUT IDEAL ELECTRICAL
IDEAL Electrical's trusted, innovative products are proudly manufactured in America. Best known for its wire connectors, a go-to standard for electrical connections around the world, IDEAL Electrical innovations also touch the sky, as nearly every commercial jet flying today was made using IDEAL INDUSTRIES wire strippers. IDEAL Electrical is proud to produce these innovative products for skilled tradesmen around the world, keeping them ahead of the challenges and changes of their respective industries.

Although IDEAL Electrical is where the IDEAL journey first began, it has grown into its own entity and our family of companies has become much more than just a manufacturer of electrical components. Known mostly for its iconic wire strippers and wire connectors, IDEAL Electrical has been an industry leader for nearly 100 years. Since starting out in a small, family kitchen in 1916, IDEAL Electric has become a global leader in electrical connection and manufacturing, continuing to innovate for the electrical industries of tomorrow.
For more information about IDEAL or other products, click here to go to Utility Products' Buyers Guide.