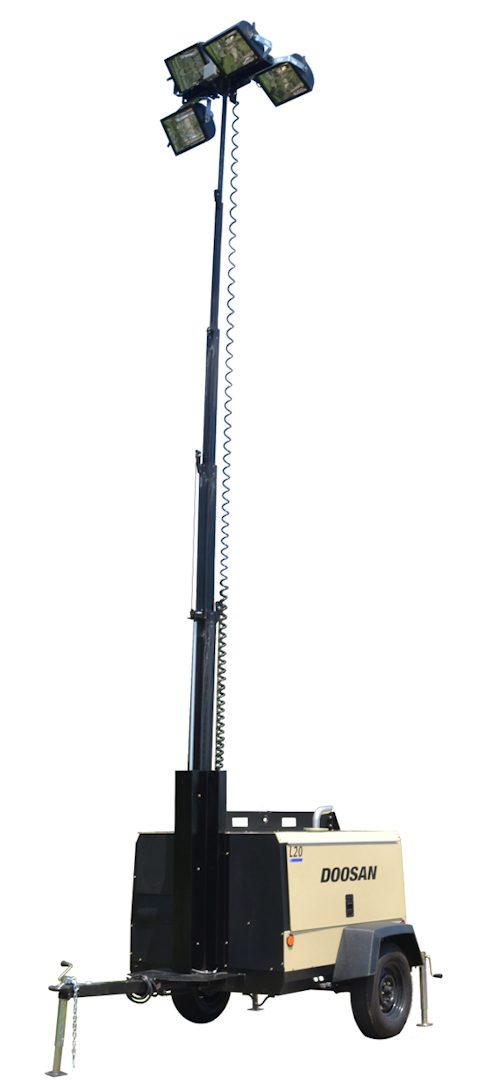 Utility tools / safety lighting: Doosan Portable Power has introduced the newly redesigned L20, a light tower and 20-kilowatt mobile generator combined, providing a single solution for two important jobsite needs -- power and light.
The L20 features a hydraulically powered vertical mast light tower, while the 20 kW generator provides power for tools, heaters or a jobsite trailer. "Two applications in one package eliminates the need for another machine in the often tight quarters of jobsites," said Deree Bivins, lighting systems product marketing manager for Doosan Portable Power.
The L20 light tower has four 1,000-watt metal halide lamps mounted on a vertical mast that extends to a full height of 25 feet 8 inches in less than 30 seconds. Minimum stowed height is 8 feet. Each lamp easily adjusts with a locking pin system that provides simple, fluid movement. The light head can be adjusted horizontally and vertically and each light fixture can be maneuvered independently to provide optimal illumination.
The 20 kW generator is powered by an Isuzu 4LE2 direct injected engine, with a single-phase Leroy Somer alternator. This Isuzu engine provides a 14 percent fuel savings over competitive indirect injected engines in this power class. Proving that power doesn't have to be noisy, the L20 provides reliable, quiet operation at just 69 dBA.
The L20 is a model of durability, able to withstand winds of more than 65 miles per hour, and provide 57 hours of continuous operation at 100 percent load with a 70-gallon fuel tank. The unit comes standard with 110 percent fluid containment and includes a removable panel for radiator fill, a hooded exhaust cover and central drains. A detachable drawbar offers trouble-free towing, while convenient internal lamp storage provides protection during transport.
Standard configuration on the L20 includes internal lamp storage, electric brakes and durable black textured paint to protect against chips and corrosion on the platform, hydraulic cylinder, curly cord shroud and front enclosure of the unit.
Optional features on the L20 include control panel configurations, cold weather packages, air shutoff valve, lockable battery disconnect and a six-lamp option. It's the ideal solution a multitude of environments where there is no reliable power source, and illumination is required.
The L20 is now available for shipment.
For more information about Doosan Portable Power or other products, click here to go to Utility Products' Buyers Guide.