Tool holder from Ergodyne
Utility tools: Ergodyne expands its Arsenal Gear Storage line with four hoist buckets.
Oct 9th, 2014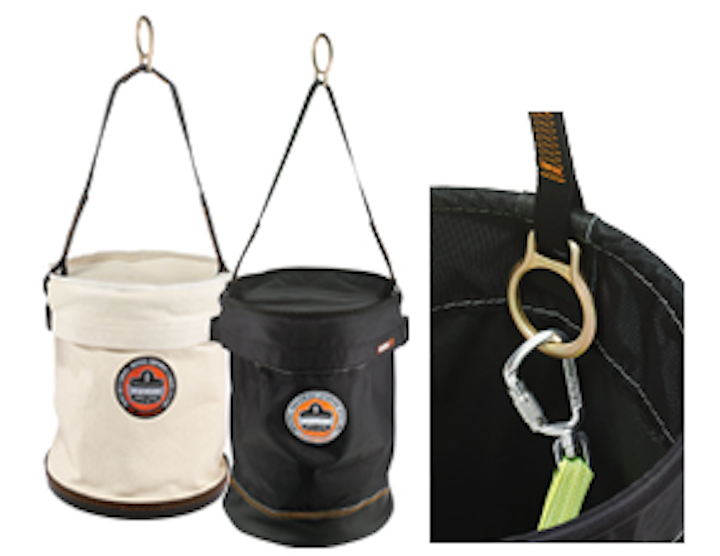 Tool carrier / tool holder: Ergodyne has expanded its Arsenal® Hoist Bucket Line to include four new hoist buckets:
• Arsenal® 5760 (5760T) Canvas Leather Bottom Bucket with D-ring connections
• Arsenal® 5763 (5763T) Canvas Plastic Bottom Bucket with D-ring connections
• Arsenal® 5650 (5650T) Synthetic Leather Bottom Bucket with D-ring connections
• Arsenal® 5653 (5653T) Synthetic Plastic Bottom Bucket with D-ring connections
Offering the same unmatched durability and strength workers expect from Ergodyne, these hoist buckets include a new anchoring D-ring on the top handle, for more efficient hoisting, as well as enhanced web handles with two D-ring connections for tool tethering.
"Our new hoist buckets deliver on a specific need for at heights workers providing additional connection points on the bucket for tool tethering," said Nate Bohmbach, Ergodyne product manager and DROPS member. "We made our buckets work that much harder for our end users, and we are confident workers and safety managers will see the difference in safety and efficiency."
Each hoist bucket is equipped with zinc-plated alloy steel D-rings on the handle and rim, making for more durable and efficient hoisting, anchoring, and tethering capabilities. With a safe working capacity up to 150 lbs (68kg) and patented tops, the new hoist buckets can safely transport everything from lightweight tools and supplies to 150lbs of equipment.
"Our commitment to at heights safety is shown through our perpetual obsession with product enhancements and improvements – even after a product has launched," said Tom Votel, president and CEO, Ergodyne. "We identified a need within some of our key industries and have delivered four unique, durable, all purpose transport buckets that will keep things running smoothly and, most importantly, protect the folks below from raining bolts, wrenches, hammers… you get the picture."
Ideal for workers needing to hoist equipment to an at heights jobsite, the new Arsenal® Hoist Buckets with D-rings are available NOW at all authorized Ergodyne distributors.
For more information about Ergodyne or other products, click here to go to Utility Products' Buyers Guide.