Lineman safety: Three-inch Hand Line Block
Safety products: Campbell introduces 3-in. Hand Line Block. A 1,500 lb. workload limit provides added safety for utility linesmen.
Jul 28th, 2014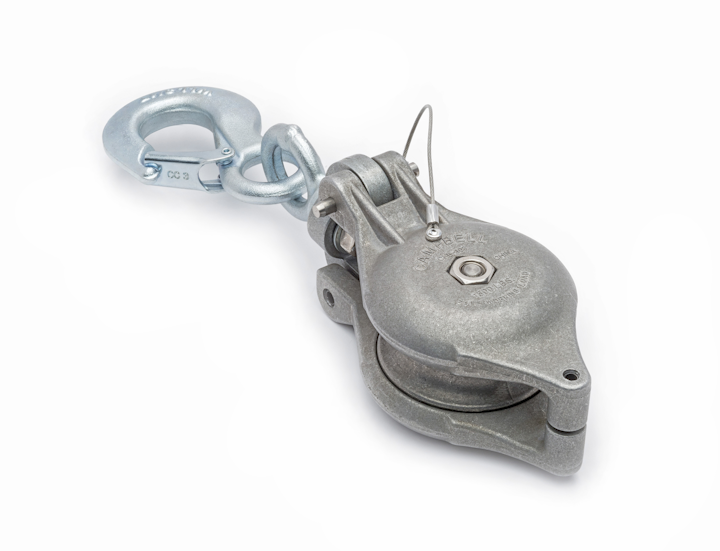 Lineman safety: Campbell®, a material handling brand from Apex Tool Group and the makers of quality chains, blocks, clamps and fittings, has announced its new 3-in. Hand Line Block.

The new block touts a 1,500-pound working load limit (WLL), which is based on resultant load, making it the strongest in the industry. The compact design and lightweight aluminum alloy construction make the block a favorite among professional linesmen working on utility lines.

"When it comes to strength, no other block compares," said Matthew Currin, Campbell product manager. "Whether installing or repairing electrical lines, utility workers can feel confident reaching for the Campbell Hand Line Block because it is the strongest available to get the job done safely and efficiently."

The new Aluminum 3-in. Hand Line Block features a stronger sheave pin for heavier loads, packing a hefty punch into this compact product. The carbon steel safety-latched hook and eyebolt make it even easier for linesmen to hook in and get started. The safety-tethered locking pin opens up the block so linesmen can easily run rope through the block and begin utility line installation or repair work.

"This time of year presents challenges for utility workers as storms and hurricanes threaten the power lines. Our new block has a three to one load safety design so it can stand up to the heaviest forces, allowing technicians to complete their important work with confidence," added Currin.

The Campbell 3-in. Aluminum Alloy block joins the Campbell 3-in. Fiberglass-reinforced Nylon Hand Line Block as another valuable tool for professionals in the utility industry. The new blocks add to the wide and varied line of Campbell products.

The new Hand Line Block is cited to offer unprecedented strength and durability, which have become synonymous with the Campbell brand.

About Campbell
Campbell, a premier brand from Apex Tool Group, has a long history as a leading name in the manufacture and supply of chain and chain-related products. The brand is recognized the world over for its product quality and outstanding customer service programs. Campbell has distribution and service centers throughout the U.S. and Canada, strategically located to serve diverse markets. Campbell pioneered the development of Grade 100 chain and fittings, providing chain users with lighter, more ergonomic, and less expensive chain assemblies.
For more information about Campbell or other products, click here to go to Utility Products' Buyers Guide.