Cable, power distribution products
Power distribution: Kerite and Hendrix showcase high quality cable and power distribution products at 2014 IEEE PES Transmission & Distribution Conference & Exposition.
Apr 1st, 2014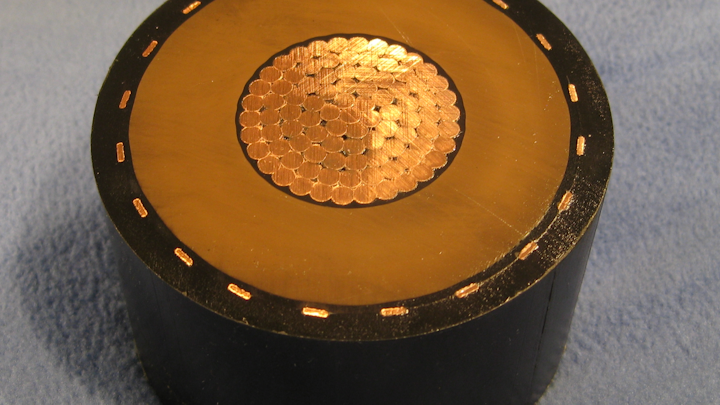 Utility equipment: The Kerite Company and Hendrix Wire and Cable, Marmon Group companies providing high quality cable and power distribution products, will be joining forces to showcase a range of products and services at the 2014 IEEE PES Transmission & Distribution Conference & Exposition, to be held April 14-17, 2014, at McCormick Place, West Hall, in Chicago, Illinois. Kerite will highlight its high voltage cable offerings and Kerite Cable Services at Booth 7944 and Hendrix will be on hand at Booth 7548 to display its aerial cable services and molded products.
Kerite will be displaying its full line of high voltage (HV) power cable, available in voltages ranging from 46kV thru 138kV and ideal for a wide variety of electrical transmission system applications, including internal substation bus connections, capacitor bank hook ups, congested transmission easements, power plant feeders, as well as river and bridge crossings and industrial manufacturing facilities.
Experts will also be available to discuss services available through Kerite Cable Services (KCS), which gives customers a single point of contact from procurement, through installation and acceptance testing. KCS services include project management, site surveys and system layout, custom cable designs, cable installation, splicing and terminating, system testing, and complete project documentation.
Hendrix will be featuring its Aerial Spacer Cable system, an innovative overhead electrical distribution system that solves utility reliability problems, significantly reduces weather-related power outages, and provides options for areas difficult to engineer with standard bare wire systems. Hendrix offers comprehensive engineering throughout a Spacer Cable project life cycle, including initial design, project planning, supply, installation, and preventative maintenance on existing circuits. Engineers will be at the booth to demonstrate the latest innovations, including FieldENG, one of a series of field-related engineering applications for mobile devices. A unique circuit design tool ideal for making field pole staking more efficient, FieldENG significantly reduces engineering design cycle time, reduces a utility¹s workload and compresses the time line for implementing projects, which ultimately helps reduce costs.
Also on display will be Hendrix's range of molded products, including their line of polymer insulators, including new Vise-Top design, new polymer Line Post insulator as well as their line of Raptor Shield Avian Covers.
For more information about Kerite, Hendrix, or other products, click here to go to Utility Products' Buyers Guide.