Transmission and distribution: Tangent crossarm assemblies from GEOTEK
Cross arms: GEOTEK introduces PUPI EZE-Mount tangent crossarm assemblies. New fiberglass crossarm mount assembly is economical, lightweight and easy-to-install.
Apr 4th, 2014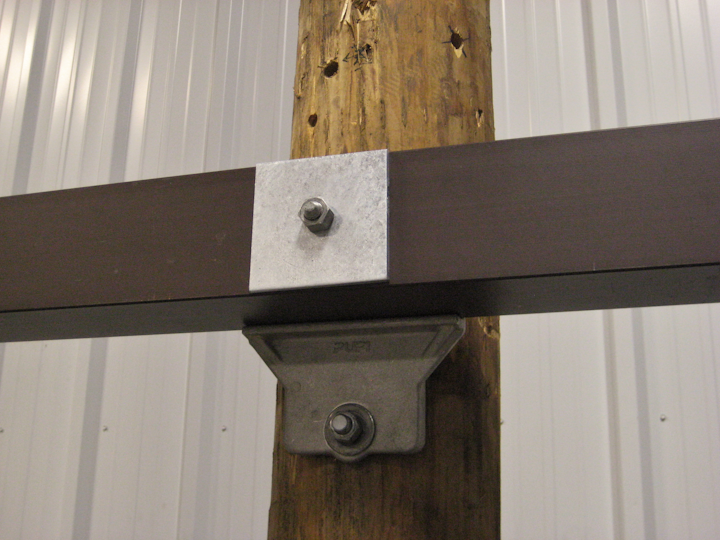 Utility supplies: GEOTEK, the producer of PUPI® fiberglass utility products, introduces the PUPI EZE-Mount™ -- a new braceless tangent crossarm assembly that joins GEOTEK's innovative line of PUPI brand electrical distribution and transmission products.
The 8-ft PUPI EZE-Mount tangent assembly weighs just 25 lb, including all of the hardware required. The system is specifically designed to work with the popular PUPI 2200 series crossarm in standard 8-ft and 10-ft tangent applications. The EZE-Mount is made of tough, corrosion-resistant cast aluminum and designed for use on wood poles. It is among the most economical crossarm assemblies on the market.
The PUPI EZE-Mount crossarm assembly is easy to handle and simple to install. The crossarm and mounting hardware are assembled at the pole with just two bolts. No braces are required, so installation is fast. Once installed, the EZE-Mount's compact design provides maximum clearance for line workers and other pole-top equipment.
"The initial cost of this assembly is very competitive with wood crossarms, yet it delivers the lifetime benefits of PUPI fiberglass." says Dean Casad, Vice President of Product and Marketing for GEOTEK. "This product will show that fiberglass crossarms are very cost effective in standard-duty tangent applications."
Standard RUS TYPE 03, 04 and 05 configurations are available. Custom lengths and drill patterns can be requested.
PUPI fiberglass crossarms are significantly lighter than wood, so they are easier to handle and install. Fiberglass is an engineered material, so its strength is consistent – and stays that way over time. Fiberglass resists insects and woodpeckers and will not rot. Unlike steel, PUPI fiberglass crossarms are an excellent insulator, never rust and never need re-coating. PUPI crossarms and mounts are truly maintenance free, with a service life estimated to be twice that of wood -- in nearly any conditions.
All PUPI crossarms feature SunGUARD® UV resistant coating, which is thermally bonded to the surface, forming a protective layer that stays smooth and protects the fiberglass from intense sunlight for 60+ years. PUPI's exclusive TorqueGUARD™ bushings are available to reinforce holes for added strength during hardware installation.
For more information about GEOTEK or other products, click here to go to Utility Products' Buyers Guide.