Utility equipment: Modular converter can install in low- or high-density-port chassis
Utility supplies: Flexible 4-port (2 fiber and 2 copper) converter line with Layer 2/3 switch functionality now offers internal-powered chassis options to connect IP cameras and other devices to central control.
Apr 1st, 2014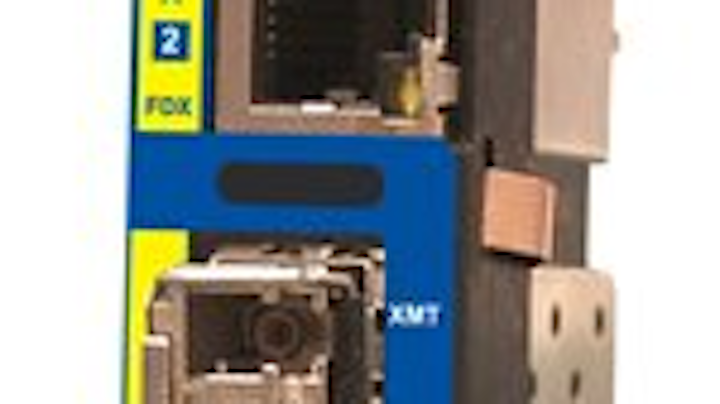 Utility tools: B&B Electronics has developed a modular generation of its Carrier-grade, intelligent, four-port IE-iMcV-MultiWay Gigabit Ethernet Media Converter that can install in AC or DC internal-powered chassis. The modular version joins B&B Electronics' existing DIN-Rail or wall-bracket-mountable standalone version for managing remote devices and central office network connections in the security, traffic and remote-monitoring markets. Both versions are designed for use as CPE (Customer Premises Equipment) devices at the network edge as well as in fiber infrastructures, and feature rugged temperature specs (-40 to +85 C). The modular converter, developed for customers who have invested in chassis-based infrastructure to help them maximize their cost per slot, can be installed in low or high-density-port chassis, including those offering extended temperature.

With two SFP (Small Form Pluggable) fiber uplink ports and two 10/100/1000 Mbps Base-T copper ports, Ethernet network administrators can connect various devices using both copper ports and one fiber port, while designating the other fiber port for the secure network connection. SNMP (Simple Network Management Protocol) and other troubleshooting capabilities provide functionality similar to that of a Layer 2/3 switch, offering a cost effective alternative to these traditional fiber switches.
The IE-iMcV-MultiWay is geared towards enterprise gigabit networking applications where there is a need to securely move large amounts of data over long distances of fiber with remote management, and to reduce onsite visits for troubleshooting network equipment. Such geographically dispersed enterprises and applications include ISPs, Telcos, municipalities (traffic signals and digital signage), and all kinds of physical security (surveillance cameras, building access systems, alarms).
A swiss-army-knife-type tool for network connectivity and management, the IE-iMcV-MultiWay can play multiple roles: managed fiber termination, fiber repeater, mode converter, multi-port switch, dual independent media converter and media converter with 1+1 redundant fiber uplink.
The IE-iMcV-MultiWay can mimic a traditional fiber switch and serve as a central office infrastructure connection with the troubleshooting functionality expected by today's network administrators to avoid unnecessary truck rolls. It offers status monitoring (interface and RMON1 statistics, OAM status and control) with management on all ports via SNMP. Part of the IEEE 802.3ah and 802.1ag standard, OAM (Operations, Administration and Management) defines how to manage, monitor and test network equipment. Also included is port-based VLAN and VLAN trunks, IEEE 802.1ad (Q-in-Q) and a user definable EtherType.
Included is B&B's free, GUI-based SNMP management software, iView2, which allows easy configuration and management of remote network nodes from a central management host. iView2 runs standalone on Windows NT/XP/2000/7 or as a Web Server running under IIS.
For more information about B&B Electronics or other products, click here to go to Utility Products' Buyers Guide.