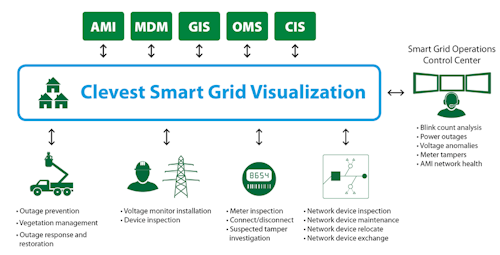 Smart meters: Clevest Solutions Inc., a provider of mobile workforce automation software including smart grid mobile technology, is introducing the utility industry to a new way to visualize, assess and respond to AMI data with the launch of its new Smart Grid Visualization software product. Co-developed with North Carolina's Brunswick Electric Membership Corporation (BEMC), the solution overlays near real-time smart meter data on top of Clevest's comprehensive, map-based view of field operations to provide utilities with timely, relevant AMI information displayed within the visual context of their power distribution system.
Robin Cairns, Product Manager, Smart Grid at Clevest emphasized, "How to harness the value of AMI data is one the biggest challenges for utilities that have installed smart meters, and both BEMC and Clevest are demonstrating their respective roles as innovators in the utility industry by collaborating on a unique mobile approach to the problem. By participating in Clevest's product evolution, BEMC is taking a leadership role among utilities that are just beginning to make use of the advanced data reporting capabilities of smart meters. And, by working closely with customers like BEMC, Clevest is further advancing its utility-specific mobile software suite to meet emerging industry needs."
David Adams, Manager of Information Service at BEMC indicated, "With AMI, we now have sophisticated systems and huge volumes of data available to us, but it's difficult to quickly make heads or tails of it because it resides in data-driven reports. We now have a platform for visualization that allows us to correlate AMI data with meter and customer information to more accurately pinpoint the root cause and location of an issue. This will allow us to be much more proactive in troubleshooting. Technology continues to be an important vehicle to help us address the changes in our industry, and we¹re adept at finding best-in-class, high value systems like Clevest."
After deploying smart meters and AMI communications networks, utilities face a substantial increase in meter data. Unless it can be turned into meaningful, actionable information, however, this data provides little value. By overlaying the location and status of AMI meters on top of Clevest's next-generation mobile platform that already incorporates street, satellite, asset, vehicle and service order layers, Clevest Smart Grid Visualization presents AMI data in a more intelligent, consumable format. The ability to view AMI information in context provides utilities with much better visibility into what¹s actually happening in the distribution system and with the ability to efficiently manage corrective service work in the field.
In this way, Clevest Smart Grid Visualization creates opportunities for utility system operators to quickly and accurately identify problems, resolve issues and improve reliability. More meaningful and timely information about trouble events such as outage, voltage and suspected tamper situations will help utilities increase the ROI on their AMI investment; enhance customer satisfaction due to outage prevention, reduced outage duration and improved service reliability; and provide enhanced levels of safety for mobile workers and the public.
BEMC, Aclara and Clevest worked together to refine the scope of the product and to define its functional requirements for Clevest¹s software engineering team. BEMC also plans to integrate Clevest Smart Grid Visualization with its GIS solution in order to see and assess smart meter information in relation to substations and other assets. In addition, the utility¹s GIS and outage maps will be integrated with Clevest Automatic Vehicle Location (AVL) for greater visibility into vehicle locations and its asset infrastructure during routine operations as well as when outage events occur.
The newest offering in Clevest's mobile software suite, Clevest Smart Grid Visualization can be fully integrated with AMI, GIS, OMS, CIS and other enterprise systems, which allows utilities to improve information exchange between key applications, reduce integration costs and extend the value of multiple technology investments. Clevest Smart Grid Visualization can also be easily integrated with Clevest AVL and Clevest Mobile Workforce Management (MWFM) to give utilities an even more powerful view of crews in the field as well as the tools to effectively manage the service work they are performing.
About Brunswick EMC
Established in 1939, Brunswick EMC is the second largest electric co-op in North Carolina and the 35th largest of 851 cooperatives in the U.S. It serves approximately 89,000 members located across Brunswick and Columbus counties, as well as in small areas of Bladen and Robeson counties. Our mission at Brunswick EMC is to provide our cooperative membership with superior electric and consumer services through open communication, utilizing a highly-trained, efficient work force in conjunction with a knowledgeable and well-informed membership.
For more information about Clevest Solutions or other products, click here to go to Utility Products' Buyers Guide.