Utility equipment: Knockout system makes punching easier
Utility supplies: Milwaukee Tool's Milwaukee Knockout System makes every step in the hole making process faster, easier.
May 12th, 2014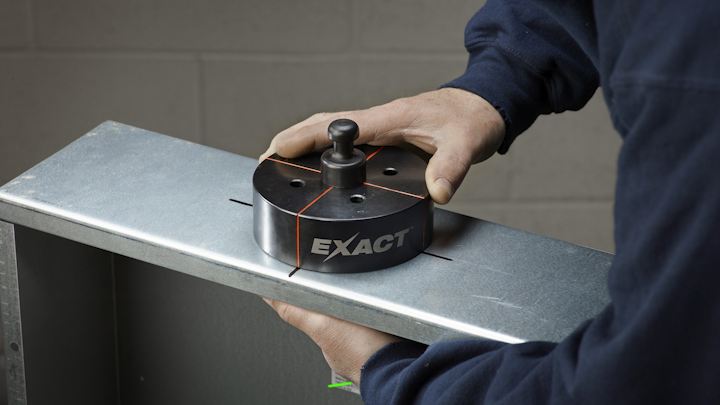 Utility tools: Milwaukee Tool's new Milwaukee® Knockout System is designed to make every step in the hole making process faster and easier; the new Milwaukee EXACT Punches and Dies, M18 FORCE LOGIC Knockout Tools and Hand Ratchet Set will truly redefine productivity for the user by reducing the tedious steps of hole making and improving the speed of the process.
"Hole making is an important and time consuming application for the electrical contractor, and over the last 50 years, the incremental improvements to this category have been focused around making small parts of the step by step process easier," says Corey Dickert, Director of Product Marketing for Milwaukee Tool. "Building our system from the ground up, Milwaukee brings a fresh perspective to the category that has not only improved, but actually redefined the process in a way that the user will experience breakthrough ease of use and productivity."
Traditionally, the most challenging step in the hole making process is setting up the punches and dies on the material as alignment lines on competitive units are very hard to see and the weight of the tool that is attached to them works against the user as they try to align.
Featuring the clearest alignment in mild and stainless steel, Milwaukee's EXACT punches and dies feature bold, laser engraved crosshairs and a clear view of the work surface to make alignment fast and easy. They are also set up separate from the tool for extreme ease of use, utilizing a quick connect alignment system that allows the user to snap the tool onto the punches and dies once set up is complete, and pull the tool trigger to punch the hole with ease.
In addition, Milwaukee is the only manufacturer whose standard punch and die sets cover both Mild and Stainless applications up to 4 in. This provides unparalleled value as the competition sells stainless steel sets separately at a premium that can cost up to three times more than sets for mild steel. The punches and dies are also designed for optimal slug removal and compatible with competitive Knock Out Tools*.
Powered by Milwaukee REDLITHIUM batteries, the new M18 FORCE LOGIC 10 Ton Knockout Tool features a powerful Hydraulic System to punch up to 4 in. holes in 12 gauge stainless steel. With a compact right angle design to operate in tight spaces, the tool is also compatible will all major brands of punches and dies** for users that have already made significant investments in other systems.
To round out the Milwaukee Knockout System, the new Hand Ratchet features 5 degree ratcheting that requires less clearance to punch, and a 20% longer handle than the competition to provide more punching leverage.
Available in June of 2014, the new Milwaukee® Knockout System is truly the easiest way to punch, and will redefine accuracy, durability, and productivity for the user.

*Dies sizes 2 1/2 in. – 4 in. must be used with adapter (model number 49-16-2684) for competitive adaptability.
**May require competitive draw studs and Milwaukee® Adapters
For more information about Milwaukee Tool or other products, click here to go to Utility Products' Buyers Guide.