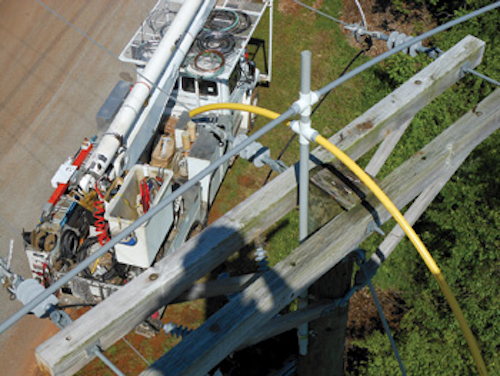 The Osprey/Raptor Deterrent, available through Power Supply Co. LLC, minimizes the available space on top of a utility pole and restricts the clearance for the birds to fly, build nests and perch. It also acts as a protective barrier to protect the birds from coming in contact with any energized electrical wires or equipment.
Ospreys were re-introduced into areas with the use of a wood pole with cross arms or a platform on top. They have since naturally related to utility poles equipped with cross arms as a normal nesting area. Nests that catch on fire can cause damage to poles and cross arms, leading to costly replacement as well as outages. The patented devise also presents a barrier that acts to deflect the sticks and debris used to build these nests.
Another feature is that it is not flat at any point on top and therefore does not allow debris to gather on the top. The conduit is not stable enough for the weight of the birds, but strong enough to deflect the debris dropped and thus deters the birds from landing or trying to perch on any part except at the center point. The birds perching there pose no problem because the birds are not building and they are out of harm's way from contacting live energized electrical conductors or equipment while taking off or landing.
For more information about Power Supply or other products, click here to go to Utility Products' Buyers Guide.