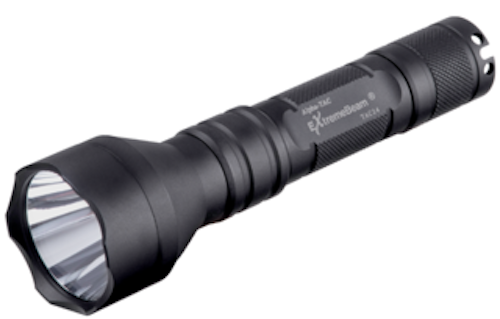 Work light: Many flashlight companies boast that lumens produced in their products are higher than any other light on the market. It is often assumed that these higher lumen lights are brighter and of better quality than other lights and they often come with an astonishing price tag as well, but is it worth it? While it is true that lumens is the measurement for a light's volume, that number is irrelevant if you are not harnessing the full power of a high lumen bulb.

Alpha-TAC's ExtremeBeam TAC24 S.W.A.T. flashlight is a testament to the effectiveness of quality engineering and manufacturing. The single high-intensity mode flashlight features 340 lumen bulb has a projection of 1,300 feet, making it easily the brightest light in its class and outshines the competition that pride themselves with higher lumen bulbs.

The key to the TAC24's brightness is its finely crafted reflecting cone that captures nearly all of the light produced by the LED bulb. While most flashlight companies press their reflecting cones and give them an "orange peel texture," the TAC24 features a reflecting cone slowly machined from high-density bar Stock aluminum to ensure smoothness and reflective power unmatched by any in the industry.

The brilliance in engineering of the TAC24 doesn't stop with its lighting power. On the other end of these flashlights is the ExtremeBeam patented Anti-Recoil® system. Inside most tactical lights there is nothing more than a coated spring to protect the fragile inner workings of the bulb, batteries, and circuit board. The Anti-Recoil® system, found in all ExtremeBeam flashlights, was engineered to do what springs do not -­ protect the light from the extreme force of recoil (up to .50 BMG).

Also available in the TAC24 series is the SR3 model. It features high, low and flash modes, a 330-lumen bulb with a projection of 1,200 feet that is still able to outshine the competition, while and all of the remarkable engineering characteristics found in the S.W.A.T. model.

When picking up either model from the TAC24 Series, the difference between them and other flashlights that claim to be the best in their class will be instantly noticeable. The body of TAC24 flashlights are machined from solid bar aluminum and are micro-textured to create a sharkskin feel and retain a solid grip even when wet. The flashlights also feature double O-ring water tight seals, a tri-cut glass lens for added durability, square cut threads to ensure they are never cross threaded, and an Anti-Glare Stealth Coat.

The TAC24, like all flashlights from ExtremeBeam, are put through a one-hour burn test before they leave the factory and come with a limited lifetime warranty that even covers destruction -- no questions asked (although they would love to hear your story).
For more information about Alpha-TAC or other products, click here to go to Utility Products' Buyers Guide.