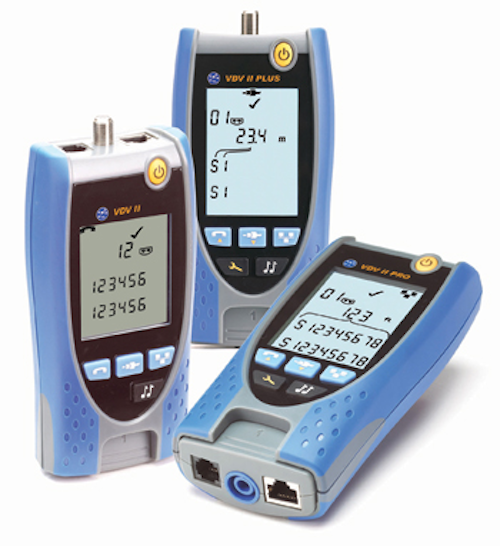 IDEAL Industries Inc., a manufacturer and supplier of quality tools, connectors and test products for electricians and data communications contractors, has launched its new VDV II Series of affordable, easy to use cable verifiers. Available in three versions to serve a variety of applications, VDV II verifiers check the integrity and detect all wiring faults in low-voltage copper cables commonly deployed in residential, commercial or industrial voice, data or video installations, including telephone wiring, LAN (CAT 5 to CAT 7, UTP and STP) and coaxial cabling.
Ergonomically designed to fit comfortably in the palm of the hand, VDV II Series verifiers identify wiring errors instantly, capturing comprehensive details on faults such as opens, shorts, reverses, miswires and split pairs that can slow a network or take it down completely. The integrated RJ11/RJ12 (voice), RJ45 (data) and F-Type coaxial (video) connectors help the user achieve faster testing of most types of low-voltage cables by eliminating the need for separate testers or adapters. Intelligent technology lets the unit know if it has been plugged into an outlet where potentially damaging voltages are present.
For more information about IDEAL Industries Inc. or other products, click here to go to Utility Products' Buyers Guide.