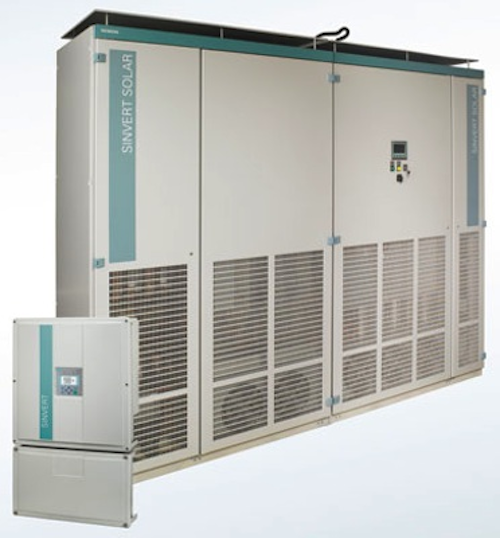 Atlanta—Siemens Industry Inc. further strengthens its portfolio of solar inverters with the introduction of its new Sinvert PVM UL inverter, designed for peak efficiency and maximum plant yields to convert solar energy into grid-compliant AC voltage for infeed into conventional power supply networks. The Sinvert PVM UL inverters are available in the range from 12 kW to 24 kW for small to medium sized plants in the commercial market, and are capable of delivering over 98 percent peak efficiency.

With PVM12 UL / PVM16 UL / PVM20 UL and PVM24 UL models, the Sinvert PVM UL inverters are well-suited for various applications, including commercial office buildings, public spaces, such as schools and municipal buildings, roofs of industrial buildings or ground-mounted plants. Capable of outputs for PV plants up to the megawatt range, these PVM UL inverters provide a high degree of economic efficiency over the entire life cycle of a grid-connected PV system.

"Our Sinvert PVM UL inverters increase Siemens ability to provide our customers with innovative solutions for the solar market. With 50 years of experience in the PV industry, our inverter product offering now ranges from microinverters for residential and light commercial applications to complex inverter systems for small to large commercial and utility scale applications. With this integration, we help to keep our customer's levelized cost of energy to a minimum," says Peter Krause, PV solar inverter business segment manager, Industry Automation Division, Siemens Industry, Inc. According to Krause, Siemens also offers combiner boxes and tracking control, plant monitoring and control, solar power system consulting, operations and maintenance and financial services.

Siemens three-phase Sinvert PVM UL inverters are compliant with IEC, UL and NFPA standards, and feature power outputs of 10, 13 and 17 kW for the IEC versions, and 12, 16, 20 and 24 kW for the UL versions. The Sinvert PVM UL models have an integrated combiner box with a lockable DC disconnect and string fuses. Two interfaces are available, including Ethernet and RS485. A convenient illuminated graphics display shows current infeed power data and other key inverter information.

The Sinvert PVM UL inverters are suitable for any application that requires compliance with UL1741 and NEC690 standards, and have a NEMA 3R degree of protection in the connection box and NEMA 4 for the electronics, thus capable of indoor or outdoor installation. Cost of ownership is reduced via its rugged, fan-less and maintenance-free design with an integral surge protection standard. Its lightweight and compact design saves on installation time and space. The Sinvert PVM UL's also feature a low intrinsic/night consumption, which further reduces costs for plant operators.

The wide maximum power point ranges of the Sinvert PVM UL family provides the customer with flexibility, while a full output up to 40-50C enables a wide area of application and the best possible plant yields.

For more information about Siemens or other solar inverters, click here to go to Utility Products' Buyers Guide.