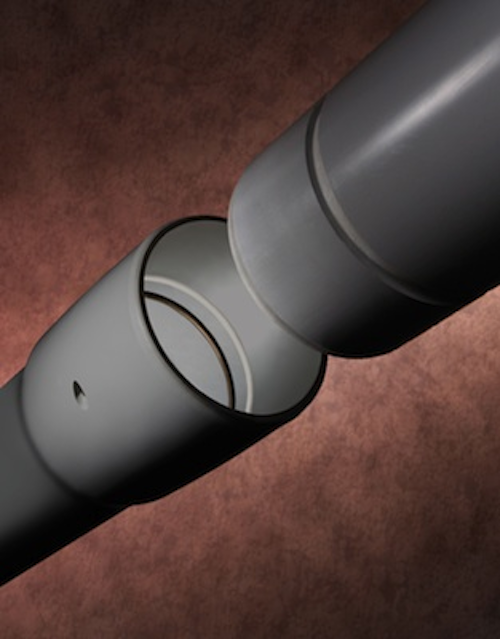 Valley Forge, Pa.—CertainTeed Corporation has responded to the needs of the expanding U.S. telecommunications and electrical utility industry by enlarging its Certa-Com Trenchless PVC Conduit product line to include an 8-inch diameter SCH80 restrained-joint PVC pipe offering. This new product, developed in response to customer requests for an easy-to-install and cost effective large diameter trenchless PVC conduit option with clear advantages over fused HDPE pipe, is available in 10- or 20-foot lengths that assemble quickly and do not require costly fusion or solvent welding.

"With an 8-inch diameter Certa-Com restrained-joint pipe option, we can offer utility contractors the opportunity to steer clear of the hassles and associated installation costs that typically accompany the assembly and installation of large diameter fused underground conduit systems," says John Coogan, marketing and development manager for CertainTeed's Pipe Group. "Certa-Com is quickly and easily assembled in 10- or 20-foot lengths while pullback continues, which eliminates costly, time-consuming pipe fusion and the need to string out several hundred feet of conduit within or beyond the work zone. This dramatically streamlines the installation process and can realistically save contractors and project owners considerable time and money."

Project installations using 8-inch Certa-Com PVC pipe have already begun with immediate recognition of the overall benefits.

"We used 3,700-feet of 8-inch Certa-Com under a busy road and it pulled in great," said Ryan Doud, operations manager for the Oregon Power Division of Potelco, Inc. "We will certainly be using this product again!"

Developed for use in trenchless electrical and telecom duct applications, Certa-Com features the high strength and flexibility needed for horizontal directional drilling installations. Employing CertainTeed's time and contractor-proven Certa-Lok™ PVC mechanical pipe joining system, Certa-Com pipe products utilize the combination of precision-machined grooves and nylon splines to provide exceptional tensile strength in pulling or pushing operations. Rounding out the design, a flexible elastomeric seal (O-ring) within the integral bell provides a robust hydraulic seal which deters environmental intrusion.

Certa-Com 8-inch PVC pipe meets the performance requirements of NEMA TC-2. Certa-Com is also available in 3-inch, 4-inch, 5-inch and 6-inch diameters, which meet all performance requirements related to NEMA TC-2 and UL 651.

For more informtion about Certa-Com or other conduit, click here to go to Utility Products Buyers Guide.