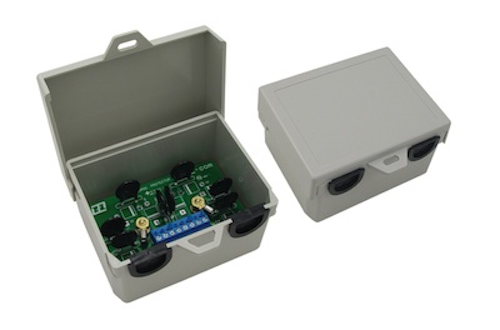 North Andover, Mass.—L-com Inc., a designer and manufacturer of wired and wireless connectivity products, has added a whole new series of single stage ac/dc control line lightning and surge protectors. The new products protect eight individual, single ended ac or dc control lines using grounding lugs to provide tie points for earth ground. They all feature removable screw terminal strips for easy installation.

Lightning and surge protectors are necessary for many wired connectivity lines. They protect sensitive electrical equipment on either end of a cable from transient voltage, or spikes, which may be caused by lightning strikes and other factors. Ac and dc control lines are used in a range of applications and are commonly found on measurement and control equipment, computers, motor controllers and industrial automation equipment.

The new products from L-com complement the existing 3-stage protectors by offering a more economical option. L-com will carry weather resistant models for 12 Vac, 24 Vac, 48 Vac and 5 Vdc lines. The AC protectors feature Metal Oxide Varistors (MOV), while the DC protectors feature uni-polar Transient Voltage Suppression (TVS) Diodes rated at 1500 Watts.

"It is common for engineers to overlook their ad/dc control lines when they have more pressing projects," said Patrick Pesa, Product Manager. "But it is a big mistake to leave those lines in place without any sort of protection. L-com makes protecting those lines easy and, with these new products, more economical than ever."
For more information about L-com or other lightning and surge control protection, click here to go to Utility Products' Buyers Guide.