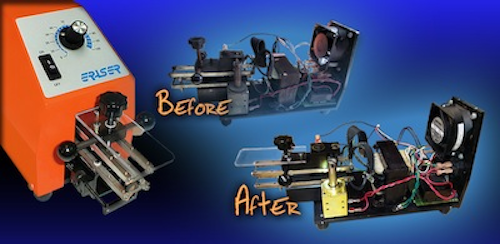 Syracuse, N.Y.—The Eraser Company Inc., manufacturer of wire, cable, and tube process equipment, announces its equipment tune-up program.

Technicians will:
• Thoroughly evaluate your unit
• Clean and replace needed parts
• Ensure optimum performance

With Eraser's equipment tune-up services, our skilled lab technical will clean your machine, replace standard wear items plus provide you with a thorough inspection and evaluation of your Eraser brand equipment. Additionally, they will offer you recommendations to ensure that you are receiving maximum performance.

Be proactive, not reactive! Let our professionals help you to meet your high demands and ensure that your Eraser brand equipment is performing at its optimum level. Don¹t risk the cost of your production line being down!

"Having your Eraser brand equipment tuned-up and repaired is just like taking your car in for a tune-up. Over time gears get backed up and blades and wheels dull. We do a thorough inspection of each machine, and clean them out so that they look and work just like new," says Bill Warwick, Eraser Lab Technician.
For more information about The Eraser Co. or other tune-up equipment, click here to go to Utility Products' Buyers Guide.