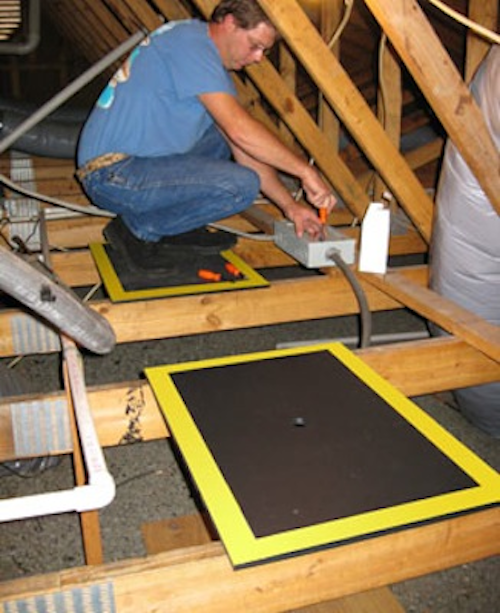 Fayetteville, N.C.—U-TECK, a developer of specialized products for the telecommunications, utility, municipal and transportation industries, announces the availability of its Attic-Trax Walkboards. Used in pairs, Attic-Trax Walkboards help workers in the construction, HVAC and electrical industries move safely through an attic space, while preventing ceiling damage and increasing productivity.

U-TECK¹s Attic-Trax Walkboards are constructed from durable, lightweight composites with beveled edges and corners, featuring a finger placement hole in the center of the board for easy pickup and repositioning. Each board has a 700-pound load rating and four support rails that allow users to safely stand and navigate between joists. The Attic-Trax Walkboards have been approved for use by some of today¹s leading telecommunication service providers.

Russ Mason III, U-TECK¹s vice president of sales, said, "After hearing concerns from electrical technicians about damaging ceilings while traversing through attics and standing on unstable beams, we created the Attic-Trax Walkboards. With a set of these sturdy, ergonomic boards, workers can more efficiently perform their jobs, as they are able to safely move around and comfortably stand in an attic space."

Attic-Trax Walkboards are designed to work in attics with 16 or 24-inch OC joist spaces. Each kit includes two 20-by-28 inch textured, non-slip boards with high-visibility yellow edges and a detachable carry handle. U-TECK's Attic-Trax Walkboards are available immediately through the company and its approved distributors.
For more information about U-TECK or other safety products, click here to go to Utility Products' Buyers Guide.