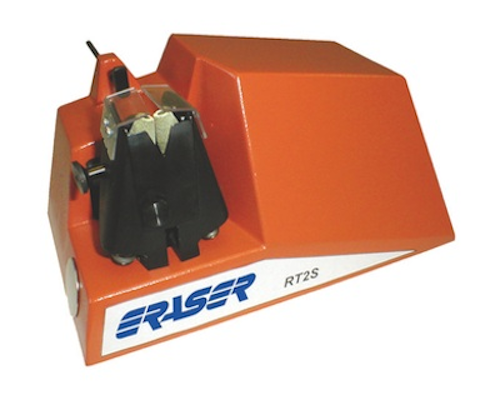 Syracuse N.Y.—Eraser's Model RT2S Fine Magnet Wire Stripper will strip film type insulations including Formvar, ML, enamel, varnish, isonel, and more from 28AWG to 48AWG. The conical wheels rotate at high speed to generate frictional heat that softens the insulation on the wire.

The machine features a strip length stop that allows for consistent strip lengths, a dust take off port for environmental safety and close-up, multiple wire stripping capability. The unit also cleans and polishes leads of small electronic components and removes oxidation and other contaminants from leads as small as 0.0012" diameter.

Eraser offers a wide range of stripping options from automatic and semi-automatic, air-operated, bench and portable machines.

The Eraser Company, Inc., celebrating its 101st anniversary in business, manufactures a wide range of industrial products including wire, cable and tubing cutters, wire and cable strippers, wire twisters, wire brush wheels, dereelers, infrared heating equipment, measuring tools, and FybRglass erasers. The company is ISO 9001:2008 certified. The company offers free E.C.P. (Eraser Certification Program).

For more information about Eraser or other wire strippers, click here to go to Utility Products' Buyers Guide.