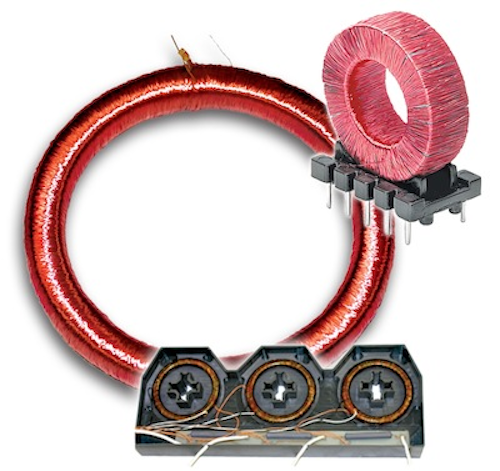 Cincinnati, Ohio—Standex Electronics manufactures Rogowski coils and
modules in custom configurations to meet high current metering applications.

They are ideal for use within hybrid circuit breakers and other components
used in smart metering. In addition to assisting with wire selection and
number of turns to optimize application parameters, Standex engineers assist
with integration of components, development of custom packaging, and value
added features such as shielding, PCB with ground plane to reduce noise, and
more.

Rogowski coils are wire wound "air" core toroids used to measure AC
current. The AC current that is measured creates a magnetic field which
induces a voltage in the Rogowski coil that is proportional to the change in
current. They are ideal for high current metering applications because of
their very high accuracy.

A conductor which carries the current to be measured passes through the
center of the Rogoswki coil which senses the change in current. An
integrator transforms the signal to be measured while a filter eliminates
any noise within the signal. Advances in digital IC measurement technology
have substantially increased integrator reliability, fueling their
acceptance within applications such as smart metering.

Among the benefits of this proven technology are low cost, very good
linearity over measurement range, very good high current measuring
capability, low power consumption, no DC/high current saturation problem,
very low output variation with temperature, no DC offset problem, and no
saturation and hysteresis problem.

In addition to assisting customers with wire selection and number of turns,
Standex engineers provide value added features like integration of internal
components, PCB with ground plane to reduce noise, shield layers to isolate
Rogowski coils, custom packaging and more.

"Smart metering applications have clearly fueled the increase in interest
for these highly accurate measurement devices," said Christian Rogiers,
Director of Global Marketing for Standex Electronics. "Our engineers
continue to add value by assisting with wire selection and determining
number of turns to optimize the product for the intended application. In
house molding means that we can package the coils to suit customer
requirements."
For more information about Standex Electronics or other coils and modules, click here to go to Utility Products' Buyers Guide.