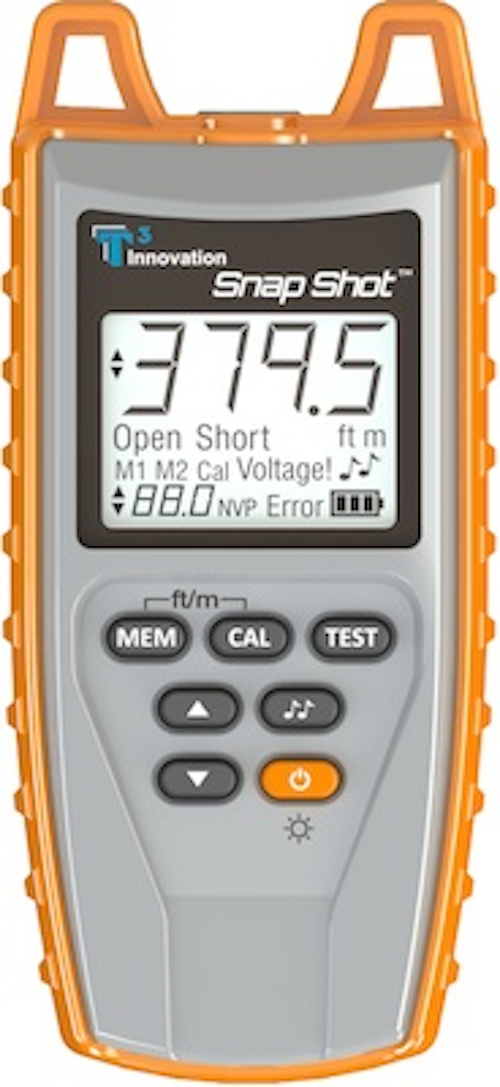 Camarillo, Calif., Jan. 10, 2012 — T3 Innovation, a provider of advanced handheld test equipment for the cable/telecommunications, datacom/networking, electrical design and maintenance, and residential/CEDIA custom install markets, has announced that the new Snap Shot fault finding/cable length measurement time domain reflecrtrometry (TDR) is now available.

"With the complexity of today's electrical, data, voice and video signal carrying systems, you need a tool that is fast, accurate, and easy-to-use to see down the wire and show the exact conditions that exist," explained Ron Vogel, T3 Innovation CEO. "Our new, compact Snap Shot TDR accurately detects, locates and identifies fault conditions such as opens, shorts, and arc faults on energized cable of all types up to 3,000 feet in length."

Made in America with American technology, Snap Shot's large backlit LCD display clearly shows lengths in both feet and/or meters with an accuracy of better than 1 percent for pinpointing any fault or condition. Dual internal memory allows users to store cable parameters for easy reference, while a built in tone generator with multiple tone capability traces found faults.

"In addition to precise location of faults, Snap Shot uses an advanced form of Spread Spectrum Time Domain Reflectometry that allows its use over energized cables," added Vogel. "Now, attached working data lines, electrical cable runs, and live coax systems can be measured for run lengths, and to see if there are any existing electrical faults while the cable is in use and under power. No other TDR has this capability."
For more information about T3 Innovation or other time domain reflectometry, click here to go to Utility Products' Buyers Guide.