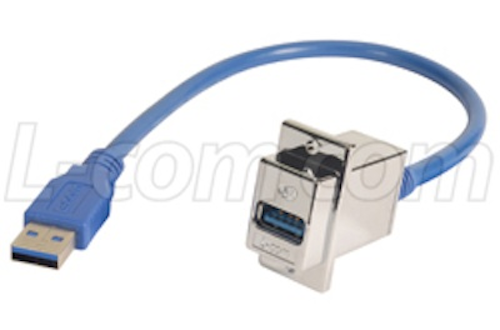 North Andover, Mass.—L-com Inc., a manufacturer of wired and wireless connectivity products, has added USB 3.0 cable assemblies with a type A female bulkhead connector on one end. These assemblies are designed to be easily installed on panels or chassis and provide access to hard-to-reach or secured USB 3.0 ports.

The new USB 3.0 cable assemblies use a multi-layered PCB in the bulkhead that maintains USB 3.0 speed and performance. The "ECF504" style bulkhead mounts to virtually any panel thickness via an electrically grounded flange. They are a USB 3.0 version of the original USB 2.0 cable assemblies that L-com has carried for years. USB 3.0 is up to ten times faster than USB 2.0, with speeds reaching 4.8 Gbps.

Steve Smith, Product Manager, said, "The new USB 3.0 cable assemblies will allow design engineers to create products utilizing the drastically-improved speed of the latest USB standard with a pre-terminated bulkhead connector that is simple to install."
For more information about L-com or other cable assemblies, click here to go to Utility Products' Buyers Guide.