Uninterruptible power supply batteries
Power-Sonic introduces new series of High Rate VRLA Batteries tailored for the UPS market.


Jan 30th, 2012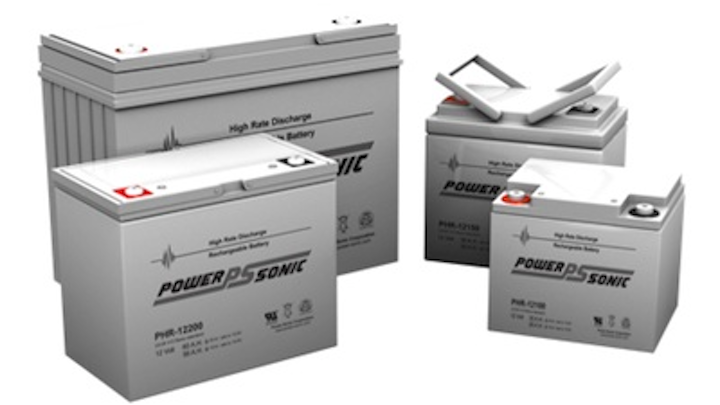 Power-Sonic, a manufacturer of sealed lead-acid batteries, has launched its new PHR series of High Rate UPS Batteries, a new product designed specifically for the demanding high rate discharge needs applications of uninterruptible power supplies. Performance characteristics ensure system reliability, extended service life, and lowering of maintenance cost.

Millions of UPS (Uninterruptible Power Supplies) batteries are deployed around the world and demand for battery replacements is growing. In the face of ever tightening budgets companies choose to replace their batteries rather than upgrading to new systems. In so doing power back-up dependability is assured and maintenance costs are kept low.

Development of the PHR series of batteries was done at the behest of customers and prospects who are searching for a product that could meet their needs for batteries with higher constant power yields, useful service life of up to 10 years, and competitive cost/performance ratios - all to ensure system integrity at the highest level. PHR batteries range from 28 amp hrs at 100 wpc to 140 amp hrs at 500 wpc.

Power-Sonic has subsidiary companies in Europe, Mexico and Singapore and exports to over 70 countries worldwide. The company has held ISO 9000 certification since 1998.
For more information about Power-Sonic or other batteries, click here to go to Utility Products' Buyers Guide.