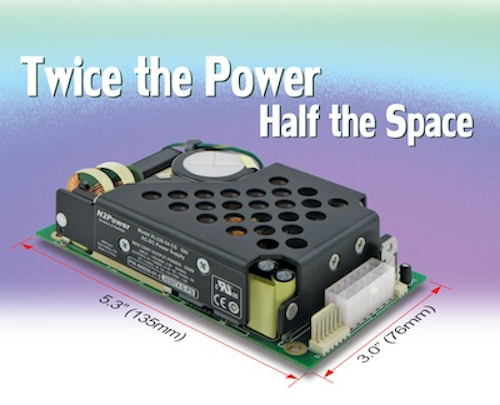 Wrentham, MA—Power Sources Unlimited Inc. announces the new XL330-54 AC/DC power supply with unrivaled power density and ultra-high efficiency all within a very small footprint. This unit is the ideal solution in Power-over-Ethernet (PoE) applications.

The 1.35″ high open-frame XL330-54 has a 3.0″ x 5.3″ footprint that delivers a power density of 15W/in³ with only 13CFM cooling, a space savings of 32 percent compared to typical 1U units of similar rating. Its maximum full-load efficiency of 90 percent, achieved through synchronous rectification, Or-ing MOSFETs and a unique active PFC design, means the XL330-54 generates less heat than most comparable power supplies minimizing cooling requirements and improving system reliability.

The XL330–54 has two primary outputs: 54V/6.1A and 12V/9A, plus a 12V/1A auxiliary output. Other key features include universal AC input (90–264VAC) and active inrush current protection of 10.5A at 240VAC, which does not change during operation, SCP, OVP and OPP. RoHS compliant and meets all major international safety and EMC requirements.
For more information about Power Sources Unlimited or other power sources, click here to go to Utility Products' Buyers Guide.