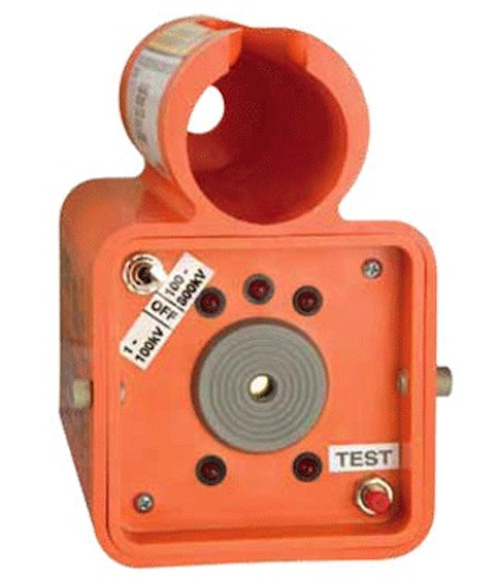 Elgin, IL and Millbury, MA— Hi-Line Utility Supply's Super Tester voltage detector's lights blink and alarm sounds when placed in an electrostatic field above the trigger threshold of the device. Flashing red lights and high pitched tones alert the operator of present voltage that could be dangerous when applying temporary grounds or performing maintenance. It can be used to check overhead lines, in substations and around switchgear.

The Super Tester simply slips over the head of a standard 1 1/4-in. diameter disconnect stick. It also may be used on a Chance Grip-All clampstick, universal, telescoping or positive-grip hot line stick fitted with a special adapter (sold separately).

A three-way switch permits selection of either the 1 - 100 kV or the 100 - 800 kV range. A test button checks both the battery and the tester. Each unit comes with instructions packed in a lined, reinforced case with carrying handle.

In addition, Hi-Line Utility Supply offers medium duty wire cutters. All cutters are assembled and mounted on epoxiglass insulated poles. A solid fiberglass-reinforced operating rod insulates the linemen from the cutter head. The lever handle is coated with plastisol. The lever action gives the linemen added mechanical force to make clean cuts up to the maximum sizes. Cable size: 4/0 stranded copper or 4/0 ACSR; length: 6.5 feet.

The company also offers disconnect sticks that provide insulation for linemen in opening and closing disconnect switches and cutouts. They are also used for installing and removing open-link fuse links. Storage bags are also available.

For more informatoin about Hi-Line Utility Supply or other voltage detectors, click here to go to Utility Products' Buyers Guide.